Start main content
Chinese Learning for Ethnic Minorities in Hong Kong — Challenges and the Way Forward

Despite the fact that many ethnic minority people have been living in Hong Kong for years, they have often been excluded in society. The greatest obstacle is that they cannot master the native language of the city they live in – whether in terms of speaking Cantonese or reading and writing Chinese.
Since the handover, Chinese has become more widely used – proficiency in the language is now a compulsory local university admissions requirement, as well as a requirement for the recruitment and promotion of civil servants. Furthermore, organisations value employees more if they are biliterate and trilingual; government documents and notices are often only available in Chinese. With these changes, the problem has become increasingly worse for ethnic minorities in Hong Kong.
A lack of opportunities to learn and communicate in Chinese
Most ethnic minority people do not use Chinese at home or in their social circles. Classes are conducted in English if they study at schools that admit more non-Chinese speaking students. Students who mainly befriend those who are of the same ethnicity lack opportunities to learn and communicate in Chinese, and no one is able to help with their Chinese language studies at home. There is even a lack of resources to alleviate the problem for low-income ethnic minority families. The stress many of them are under gradually makes them lose interest in learning Chinese. Oftentimes, all they can do is sit in class and wait until it ends.
In 2006, the government granted its first subsidy to schools to provide Chinese learning support to non-Chinese speaking students. The situation improved a little. Still, ethnic minority children do not have Chinese language skills comparable to that of Chinese-speaking students. What's more, some have the added burden of having to study other subjects in Chinese.
Poor Chinese language skills have made it almost impossible for ethnic minority students to attain Level 3 in HKDSE (Chinese Language), which is the minimum requirement for university admission. So, 80 per cent of ethnic minority students choose to take the General Certificate of Secondary Education (GCSE) Chinese examination or other exams in order to get 'alternative Chinese qualifications' in Joint University Programmes Admission System instead. The only issue with this is that according to local standards, the GCSE Chinese standard is only equivalent to a Primary 3 to junior secondary student's Chinese level. Students with 'alternative Chinese qualifications' cannot apply for degrees in Journalism, Social Work, Nursing and Education. Leaving their Chinese at this level is also not enough for them to master reading and writing in Chinese even if they are accepted into local universities.
Poor language skills affects job prospects
Poor grades, low self-esteem, lack of motivation, worse grades: this is a vicious cycle that hinders the psychological and personal growth of ethnic minority students.
Unfortunately, this describes many young ethnic minorities' learning experience in Hong Kong. Many of them start working once they graduate from secondary school; only a small number of them are able to pursue a tertiary education thereafter. Opportunities for social mobility are greatly limited among ethnic minority youths who have a low level of education, poor Chinese language skills and a small social network in Hong Kong today.
There are even fewer opportunities to learn Chinese for ethnic minority people who arrive in Hong Kong after the age of 15. With few available options to study Chinese, they are often limited to '3D jobs' – jobs that are dirty, dangerous and demeaning. What is worse is that it is common for them to take up two jobs because of how little each job pays. Even if they wanted to learn Chinese, the existing Chinese language programmes for adults are often short and lack systematic curricula, which makes it hard for them to master the language and use it in their daily lives.
A lack of support from the government
The government announced that they would implement the Chinese Language Curriculum Second Language Framework for ethnic minority students in 2014. However, these supportive measures only apply to primary and secondary schools, not kindergartens, where children are at the age when they pick up a language more easily. It is also not a compulsory requirement for all schools that receive subsidies to provide self-contained classes for ethnic minority students to cater to their Chinese learning needs according to their age or Chinese language level. Besides this, the New Learning Framework does not provide ethnic minority students with support as they study other subjects in Chinese. What's more, subsidies are often small for schools that admit fewer than 10 ethnic minority students; however, the situation is that 70 per cent of schools that admit ethnic minority students have fewer than 10 non-Chinese speaking students. Many schools have thus expressed how challenging it is to provide systematic and comprehensive Chinese language learning for ethnic minorities. The Chinese Language Curriculum Second Language Framework has been implemented this academic year (2014/2015); however, its effects remain to be seen as there was a lack of sufficient time to prepare before its implementation as well as a lack of comprehensive measures to support schools. What is certain though is that the schools, ethnic minority students and parents are not ready for a top-down policy that lacks comprehensive consultation.
Oxfam suggests extending Chinese language learning support to kindergarteners
As such, we hope the government will extend its support in Chinese language learning to kindergartens to help ethnic minority students lay a firm foundation in listening, speaking, reading and writing as early as possible. At the same time, policies should be implemented and proper resources allocated to support ethnic minority students when they study other subjects in Chinese. Moreover, the Chinese Language Curriculum Second Language Learning Framework should be implemented in all schools that admit non-Chinese speaking students to support their Chinese language learning. The government should also require all schools that receive the New Learning Framework subsidy to provide self-contained Chinese Learning classes for ethnic minority students that cater to their Chinese learning needs and support them as they study other subjects in Chinese.
We also urge the government to be open and transparent in reviewing the Framework, its impact(s) on different supportive measures, teachers' training, teaching materials, the Chinese Language public examination standards, etc. It is only through thorough consultation of all stakeholders that the government can identify the best way to meet the needs of students studying Chinese as a second language.
As this new Framework has only recently been put into place, there is still much room for improvement, especially in the area of strengthening students' Chinese listening, speaking, reading and writing skills. This is because the ability to understand and speak Cantonese is not the same as being able to read and write Chinese. It will be easier for ethnic minority students to learn other subjects in Chinese if more support is given. Better comprehension towards knowledge taught in different subjects may lead to better results, which in turn boost up their self-confidence.
In addition to providing Chinese language education to school children, it also needs to be provided for adults so that ethnic minority adults who arrive in Hong Kong will also have the opportunity to study Chinese. Not only will this be helpful to their job search, it will also enable them to help their children in their studies.
The government's support in Chinese language learning should benefit ethnic minority people of all ages, from kindergarteners to adults. Only a comprehensive policy would meet their Chinese language learning needs, help them learn and grow together with their Chinese-speaking counterparts, and allow them to (like others) pursue further studies. This would open the door to all kinds of job opportunities, thereby providing them with a chance to improve their social mobility, lift them out of the poverty some of them face, and break down various social boundaries in society.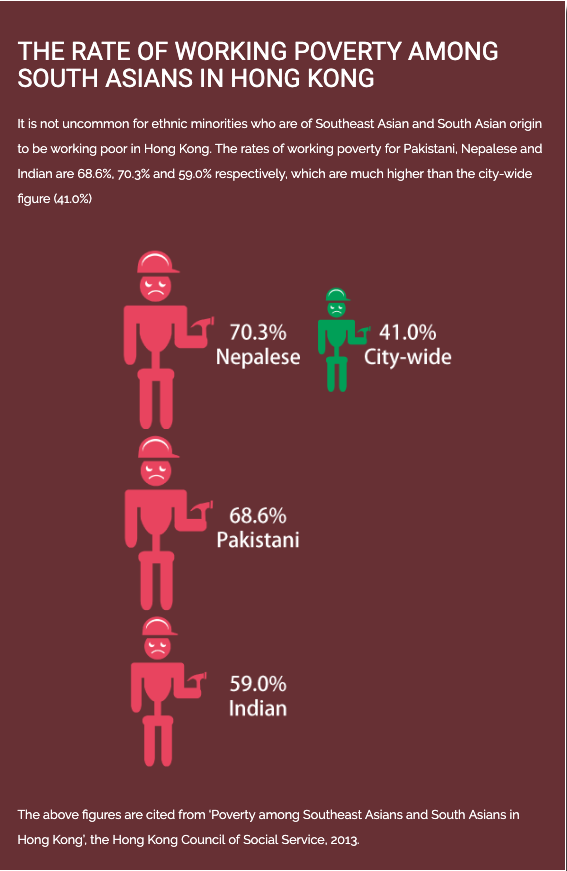 Oxafm Hong Kong Policy Paper