Start main content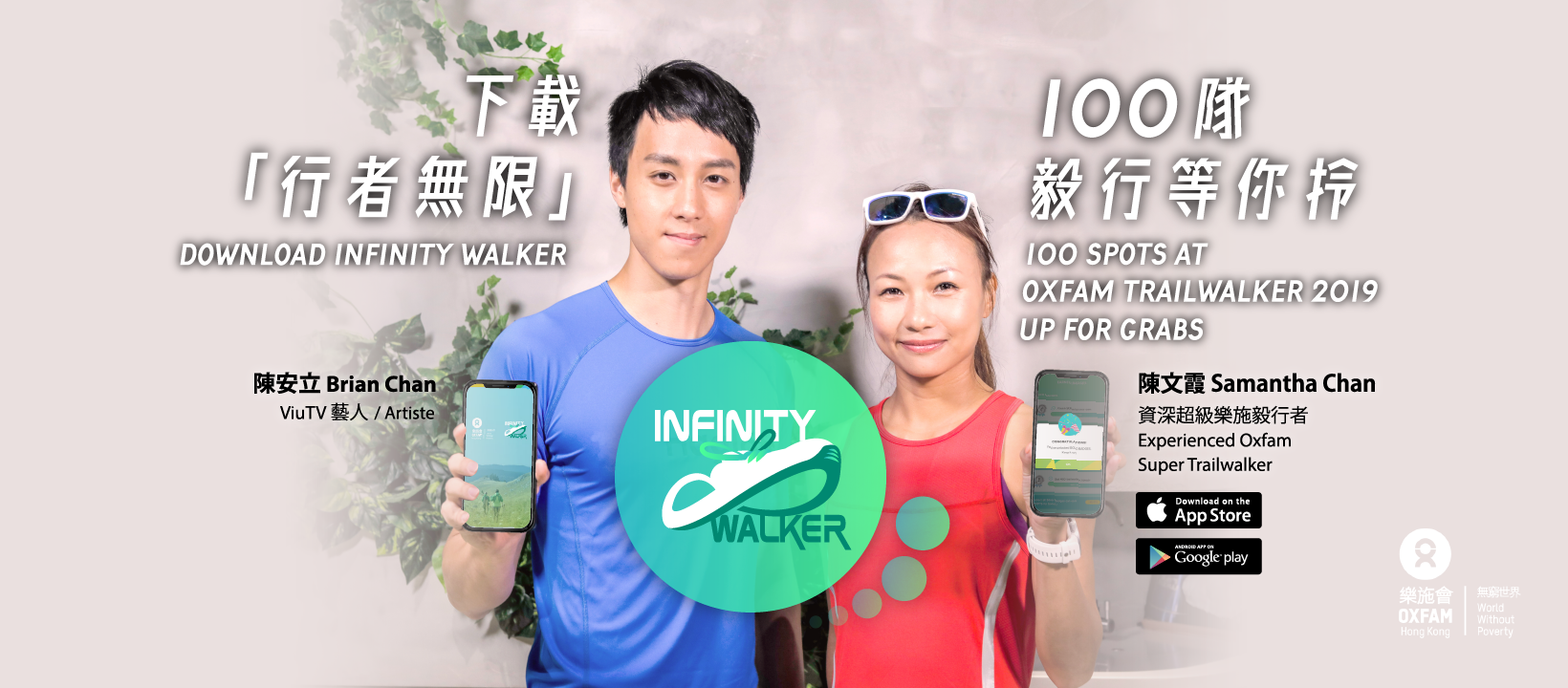 About Infinity Walker
Infinity Walker is Oxfam Hong Kong's brand-new hiking/running mobile app. By completing various missions and reaching certain milestones, you can earn points and badges. With the points you earn, you can redeem rewards, enjoy exclusive offers or even donate to Oxfam Hong Kong. This app is better when you use it with friends, so invite them to complete missions with you and earn more points together!
Remarks:
- For iOS users, Infinity Walker will obtain activity data (i.e. steps and distance) from HealthKit.* Users will thus have to grant Infinity Walker permission to read their HealthKit activity data, so Infinity Walker can calculate the number of steps and distance users walk each day.
- For Android users, Infinity Walker will obtain data from Google Fit and will require users to grant permission to obtain their Google Fit data (i.e. steps and distance)* to calculate the number of steps and distance users walk each day. Users are asked to make sure Google Fit has been installed on their phones before registering for an Infinity Walker account.
*Users can read our Privacy Policy and Terms of Service under "Settings".
Infinity Walker Features
Home
Shows a summary of the user's achievements in the app, including the total distance they have walked each day.
Mission
- Lists out all available missions. Users are automatically signed up for each mission. Users are asked to pay attention to the details to see how the mission can be completed.
- Users will earn points once they have completed each mission.
(To complete a team mission, users will need to be signed up as a team on the app.)
Team
- Create a team with Infinity Walker friends and view team invitations here.
- View team members' daily activity data and team achievements here. Teams can change their settings (e.g. change team name and profile, quit team, cancel team, etc.) here too.
Map
- Users can pick a route for the team and finish the route together. (Only the team leader can set the route for each team mission, but team members can give suggestions. Each team can only pick one route at a time.)
- Users can only view route details when they are in a team.
- After a route is selected by the leader, members can begin the mission by selecting it on this page when they are at the starting point of the route.
- All members of a team must finish the selected route within the time limit to successfully complete a mission.
Rewards
- Users can view the rewards they can redeem here.
Side menu
- Users can change their profile picture, display name and language setting here.
- Users can share the Infinity Walker app with their friends on this page and invite friends to be their Infinity Walker friends.
Notifications (top right corner)
- Shows the latest news or updates regarding Infinity Walker and the user's account.
(Users can only view the information on this page.)