Start main content
Bernard
Ranaweera (Sri Lanka)
I am a tea farmer and also the chairman of Sri Lanka's Small Organic Farmers' Association (Sofa), a producer group that sells its products to many countries. I believed that if all of us formed a co-operative of small farms and produced organic tea, we could get a higher price than would normally be paid for tea from this region. We are also encouraged to produce spices such as cloves and cinnamon, from trees and vines that coexist happily in the small tea gardens of the Sofa farms. Both tea and spices are processed in Bio Foods, a small factory nearby, dedicated to organic products.
Hashiri (Tanzania)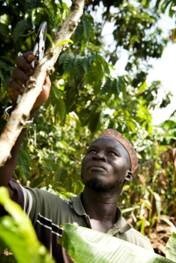 My name is Hashiri and I work for the KCU cooperative in north-western Tanzania. KCU is an association of 125 village cooperatives with a total of 67,000 members. The cooperative guarantees to buy our coffee, makes transport arrangements and helps us buy equipment. My coffee plantation covers 700 square metres and I grow almost 800 coffee bushes. I joined the KCU organic scheme a few years ago.
Now I have to dehull my red coffee berries myself, but it means that I get a better price for them, and as a member of the department here in Katoro, I can use their machines free of charge. I also reuse the hulls as a natural fertiliser on my plantations. I am proud that I now farm much more responsibly. Fair Trade has allowed me to send three of my six children to the international school. The adults are trained in quality issues and organic production.
Carlos (Brazil)
My name is Carlos and I belong to Coagrosol, a cooperative in the north of Brazil. Coagrosol has about a hundred members. It is hard for small farmers like me, with just a few hectares, to survive as we can't compete with the big plantations in the south. This is where Coagrosol comes in: they've helped us switch to organic farming and sell most of our fruit to Fair Trade organisations.
As a result, we get paid a good price, and receive a Fair Trade premium on top. Workers, farmers, trade unions and Coagrosol work together to manage the Fair Trade premium. It is used for things like computer courses for farmers' children and literacy courses for adults. We also plan to start our own processing plant. In a country with so many big plantations, we with our small fields and organic approach to farming are quite unique. Fortunately, the demand for organic fruit is high, and so organic farming gives us the opportunity to grow. And it's good for everyone: for the people who buy our fruit and also for the environment in our area.