Start main content
Population: 100.9 million (July 2015 est.)
Human Development Index: 115 (among 188 countries)
GDP per capita: US $7,000 (2014 est.)
Population below poverty line: 25.2% (2012 est.)

Source: CIA – The World Factbook (as of 30 December, 2015), Human Development Report 2015
Oxfam in the Philippines
Oxfam has been in the Philippines since 1988, and since 2010, has been implementing its humanitarian programme. It has also been advocating for policy changes and improvements in Disaster Risk Management (DRM) systems and practices, and influencing the government to shift towards a risk reduction and adaptation approach. In 2013-14, 850,000 people in the Philippines benefited from Oxfam's work.
Our work's focus
Economic justice
Contribute to the reduction of inequality through effective policy implementation and the promotion of practices that favour engagement and economic empowerment of the poor and most vulnerable in rural and urban Philippines.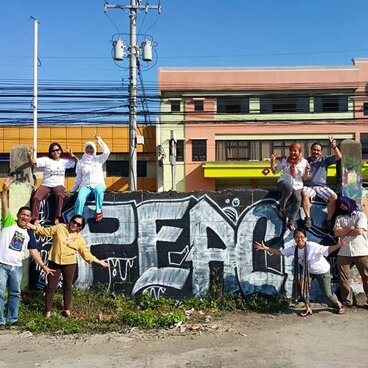 conflict transformation
Transform ideas, beliefs and institutions to end violent conflict, and bring about sustainable peace in the Bangsamoro.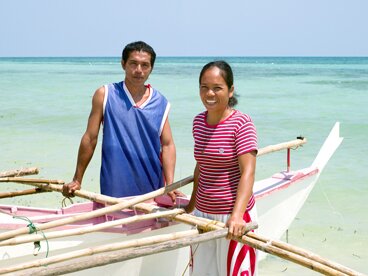 Rights in crisis
Improve resiliency; save lives now and in the future by investing in mechanisms to reduce the risks and impact of disasters; respond quickly to disasters while prioritising the most vulnerable in the Philippines.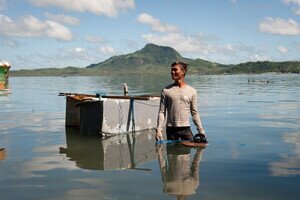 Impact of our work
Joel lives in a house on stilts above the water in Rawis, Anibong Bay, Tacloban. In November 2013, his home was totally destroyed by Typhoon Haiyan. Joel rebuilt a house using wood salvaged from the storm wreckage and a tarpaulin provided by Oxfam.
After two years, Oxfam in the Philippines' Typhoon Haiyan Response provided life saving assistance, asset recovery support, employment and social opportunities to a total of 180,769 families (905,193 individuals) across its four programme areas.
Oxfam aims to establish activities that will help people recover their livelihoods, including rebuilding boats and repairing nets. At the same time, Oxfam works to promote the protection and rehabilitation of coastal habitats, including mangroves and marine protected areas.