Start main content
Oxfam in Laos
Oxfam started working in Laos towards the end of the 1980s; we partnered with government agencies and local authorities to implement livelihoods programmes for vulnerable communities. After the end of the Cold War, Oxfam increasingly improved the capacity of civil society organisations to dialogue on an equal footing with the government and the private sector. Since 2013, 23 villages in the regions of Kasi and Hom, Laos, have been better equipped to deal with earthquakes and floods, with the help of Oxfam.
Creating a win-win situation
'I make money from selling tea … I can send three kids to school and have enough food and clothes for them.'
Foreign Direct Investment (FDI) has been pouring into Laos in recent years. In Sehopene – a village in the northernmost district of Nhot Ou – farmers have witnessed how FDI in tea production has diversified and improved their livelihoods, which used to rely mainly on subsistence rice farming.
'I make money from selling tea … I can send three kids to school and have enough food and clothes for them,' said 36-year-old mum Samor. 'Our family does not have problem with shortage of rice even though we did not plant the rice any longer; we buy rice from the money we get from selling tea product,' she said with a bright smile.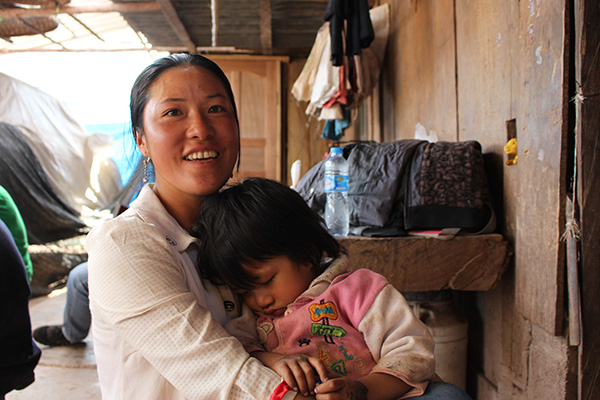 Despite how FDI has borne fruit in the lives of some tea farmers, it remains a double-edged sword. For example, without official recognition and the protection of farmers' customary rights to communal forests – ones that locals have been using for generations – it's difficult to ensure the sustainability of FDI's positive impacts. The forests could instead be granted to other investors to grow single crop like bananas – a move that would damage the environment that the local livelihoods depend on.
To ensure a win-win situation for both investors and locals, an enabling environment for responsible FDI needs to be established. Oxfam and the European Union have been supporting Comité de Coopération avec Laos (CCL), our partner in the country, to map out wild tea forest areas to enable the recognition of their customary rights and ensure the sustainable management of forest resources. We're also providing these farmers with the advocacy tools and technical know-how to improve their livelihoods, such as better access to market information.