Start main content
Women not only account for the majority of the population in mainland China that lives in poverty, but statistics also show an upward trend. Gender inequality and gender-based violence remains widespread, which highlights the vulnerability of women and other disadvantaged groups during this period of social transformation in mainland China. Through a comprehensive approach, direct services, community develop, public education, policy advocacy and other initiatives, Oxfam has been standing against gender-based violence, empowering women, raising awareness about gender equality and fighting for gender justice.
From participant to leader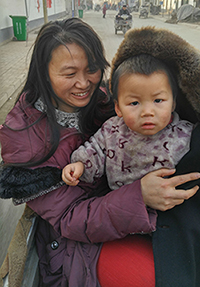 Wang Xiaoying grew up in a rural village and worked in Shenzhen after graduating from university. Because of the love she has for the country's rural areas and her desire to develop villages, she left Shenzhen and went to her husband's village in Hebei. She said, 'I've loved reading since I was a child, but it was always hard to find books in villages. I've always dreamed of building a library in rural areas. If we are to develop villages, we need to start with education.'
Without any experience and support, Wang came across numerous challenges. It was at this time that she joined the Oxfam-funded Rural Women Resource Centre – Women Capacity Building and Mutual Support Project. She said, 'I joined the project in 2010 – it really broadened my horizons and helped me understand that women are extremely important, and can contribute a lot to rural development.'
'"Rural Gender Equality Week" is a very exciting and inspiring event. Rural Women Resource Centres in different villages held public performances and various activities, which talk about rural women and gender equality. It's impactful and has raised the awareness of women in the community and helped them see their value.'
Participating in Oxfam's programme has empowered Wang: 'My ability to organise events and manage programmes has improved, and I've learnt how to better communicate with government departments.' Wang established the Beautiful Rural Community Service Centre of Zhengding County, which organises summer camps, spring festival galas and other events for rural women, youths and elderly every year to provide the community with support. Now, Wang is one of Oxfam's partners at the Training-of-Trainers Programme on Elimination of Violence Against Girls.
Wang found strength and support having participated in Oxfam's projects for the past seven years. She now has a deeper understanding of gender equality, rural development and how to develop rural women's communities. Her transition from participant to leader has reconfirmed her desire to do something for rural women.
Rural women lack opportunities and resources, and are often busy taking care of their livelihoods and families. Change has been a little slow, but as long as we persevere and continue to provide training and support, big and long-lasting change is possible.
Photo: Peggy Siu / Oxfam