Start main content
Wedding favours that give twice
Want to give your guests a meaningful gift on your big day? You can give a gift that gives twice with Oxfam's Wedding Favours. Through them, you'll be supporting Oxfam's anti-poverty work and making a difference in the lives of those who live vulnerable communities.
With each purchase of our table and thank you card bundles, you can pick a gift from our Oxfam Unwrapped catalogue that will improve the lives of people living in poverty. You and your guests can share the joy of helping others.
Oxfam Wedding favours include:
1. gretting Cards
♥ 17cm (H) x12cm (W)
♥ You will receive greeting cards with a customised message and photo



More options..

2. thank you cards
♥ 9cm (H) x 5.4cm (W)
♥ You can provide us with your engagement photo or alternatively, you could use Oxfam's photos
♥ You can write your own message or use one of ours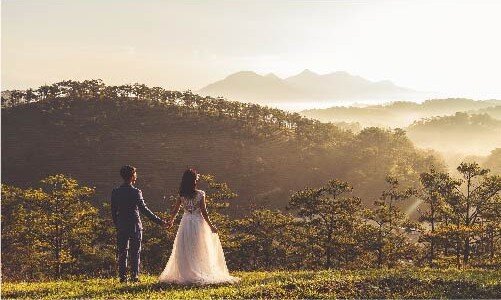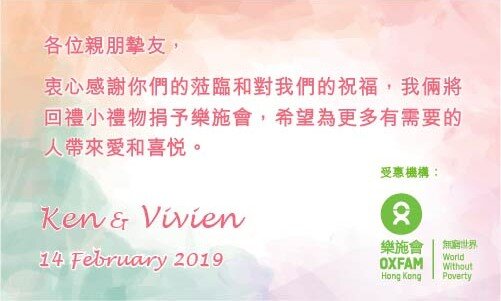 how do i order oxfam's wedding favours?
STEP 1

place your order
STEP 2

Production
Once the layout is confirmed, the production of the cards will be ready in 1 week.
STEP 3

Delivery
Pick up at Oxfam's office or deliver by courier*.
*Oxfam Hong Kong will deliver the order to the address provided by the donor, and the cost will be paid by the recipient. Oxfam Hong Kong will not be responsible for any delays, damage or loss incurred.
We not only offer impactful wedding favours, but also party favours for 100-day celebrations and other milestones. Feel free to contact us if you have any questions or special requests!
CONTACT US FOR ASSISTANCE
3120 5000EMAIL