Start main content
International Conference on Foreign Investments in the Agricultural Sector of the Lao PDR: Opportunities and Challenges for Poverty Reduction and Development
In recent years, the Lao PDR and the Mekong region as a whole has undergone dramatic changes as a consequence of rapid economic growth and foreign intervention. Investment in agribusiness by neighbouring countries such as China, Thailand and Vietnam has created opportunities, challenges, and risks for poor people in Lao PDR.
Laotian farmers account for more than 70 per cent of the country's population. About 20 per cent of all farming families live below the poverty line. As foreign investment in agribusiness has grown steadily, jobs and farmers' income has also increased. However, farmers are also being adversely affected by land concessions and environmental degradation; and the country, with weak bargaining power, may lose access to land associated with large-scale farming, and may also fall victim to unfair contracts. This would certainly disadvantage poor farmers, landless people, and those with insecure jobs and low wages.
In 2010, Oxfam Hong Kong began to commission a series of studies on agribusiness expansion in the Mekong region, as a way to form a strategy for maximising benefits and minimising costs. In 2012, Oxfam Hong Kong supported the Yunnan Agricultural University (YNAU) to translate one of the study reports, entitled Agribusiness Investment in Laos – Opportunities and Challenges for Poverty Reduction, into Chinese. The report was subsequently published in China and the book was launched at a conference co-hosted by YNAU and Oxfam in Kunming in the same year. After the conference, Oxfam and YNAU formed a partnership and translated the report into Lao. The partnership enabled further collaboration and exchange on the issue with other stakeholders.
In March 2013, in order to explore both positive and negative impacts brought about by the rise in foreign agribusiness investments, Oxfam and the Faculty of Agriculture of the National University of Laos hosted the International Conference on Foreign Investments in the Agricultural Sector of the Lao PDR: Opportunities and Challenges for Poverty Reduction and Development.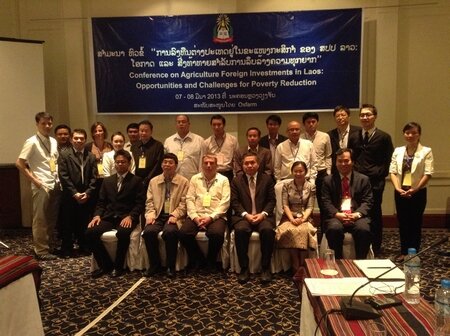 International Conference on Foreign Investments in the Agricultural Sector of the Lao PDR held in Vientiane by Oxfam and the Faculty of Agriculture of the National University of Laos on 7-8 March 2013.
The two-day conference was held on 7 and 8 March 2013 in Vientiane. About 25 people attended: government officials from Lao PDR and China; academics from universities and research institutes; representatives from private corporations; and the media.
Participants studied the current foreign investment landscape, especially in agribusiness, and explored ways to address the challenges faced by local farmers and ways to promote sustainable development, They specifically discussed how multinational corporations can promote sustainable agricultural investments that benefit Laotian farmers and communities; the role of the Lao government in agricultural development; how to encourage corporations to abide by the law and with corporate social responsibility principles; and what policies should the governments of Lao and investing countries implement in order to ensure investments that are responsible, pro-poor, and sustainable.
The conference was highly regarded by the government and academia, by the participants themselves, and was also favourably covered in the Vientiane Times and the Social Economic News.