Start main content
In 2022/23, Oxfam Hong Kong (OHK):
Worked in 23 countries and regions together with 131 partner organisations.
Reached over 1,500,000 people in poor communities through the 272 projects we supported.
Supported 40 projects in Hong Kong and reached over 12,000 people. We also published 12 research reports, position papers and responses to advocate for pro-poor policies, and conducted 259 workshops to nurture global citizens.
Spent HK$146,041,000 to fight poverty through our programmes.
The investment in programmes we spent for the year amounted to HK$146.0 million which represented 79% of our total expenditure. Management and administration costs – the costs required to run and maintain our organisation – represented 4% of our total expenditure this year. These expenses contributed to our organisation's governance, financial management, information technology systems, audit and legal services. Fundraising and marketing costs include the cost of all activities aimed at raising donations, conducting market research, registering new donors, and issuing receipts to donors. These expenses represented 16% of our total expenditure.
Most of our donors are members of the public, and many give what they can every month. Our monthly donors provide us with a high degree of autonomy, flexibility, integrity and stability, and we provide them with regular updates, reports, invitations to workshops, and an annual gathering with our staff where they learn more about our impact.
OHK does not receive regular funding from the Hong Kong SAR Government. We only receive one-off funding for specific emergency efforts, and we apply those funds from the Hong Kong SAR Government Disaster Relief Fund (DRF). During the 2022/23 financial year, the DRF granted us a total of HK$5.5 million to provide emergency relief to flood survivors in Bangladesh and mainland China.
OHK is also not a subsidiary of an international body. We are an independent development and relief agency based in Hong Kong. We do not receive regular funding from any overseas headquarters. Funding support from Oxfam affiliates generally only comes for specific projects.
To be transparent and accountable, we have prepared this FAQ on how OHK uses donations.
If you have any question, please contact us
Financial Highlights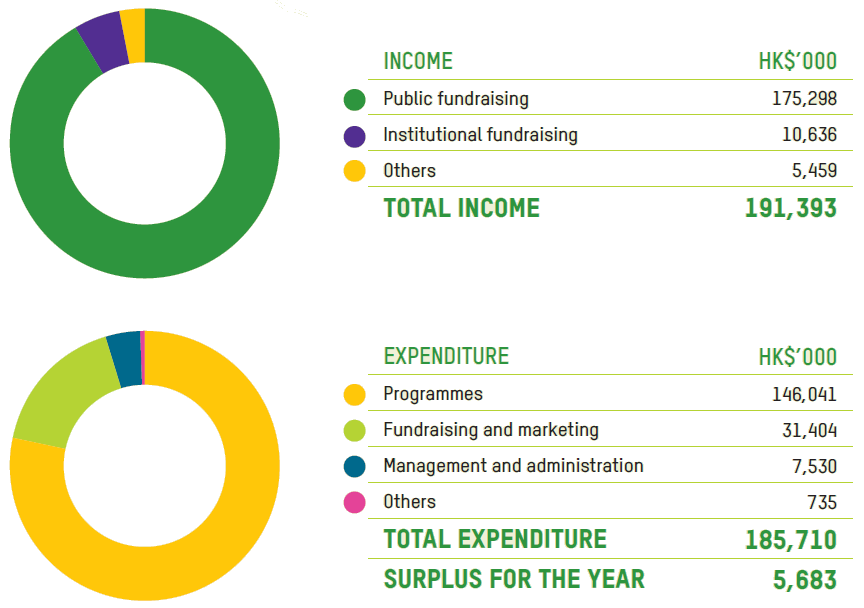 These financial highlights are based on Oxfam Hong Kong's financial accounts for the year ended 31 March 2023. The full audited financial statement by KPMG can be downloaded here. All figures are in Hong Kong dollars. Read our annual reports to learn more about how we use donations to empower those in poor communities in Hong Kong and around the world to become self-reliant.
FAQ