Start main content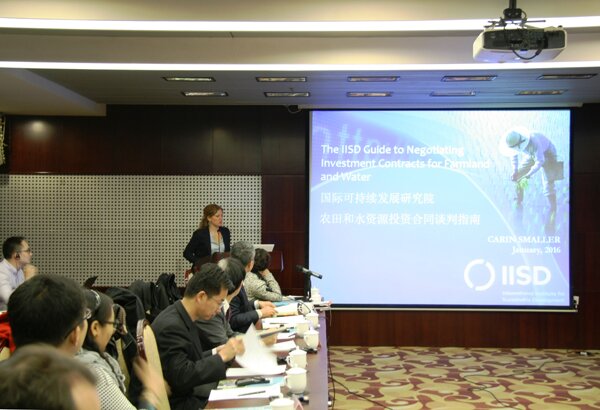 Ms. Carin Smaller from the IISD introduced the Guide, which she authored.
The 'Promoting Sustainable Investment in Agriculture-Legal and Policy Options' workshop was co-organised by Oxfam Hong Kong and the International Institute for Sustainable Development (IISD) in Beijing on 18 Jan, 2016.
The writer of The IISD Guide to Negotiating Investment Contracts for Farmland and Water, Ms. Carin Smaller introduced the Guide and its adaptability, and discussed how investment contracts can be used to maximise gains and minimise risks for FDI, especially within the context of Chinese companies.
We invited around 40 experts from government think tanks such as the National Development and Reform Commission's Institute for International Economic Research and the Ministry of Agriculture's Research Center for Rural Economics; universities such as Chinese Agricultural University and University of International Business and Economics; private sector companies including Tianjin Julong Group and Nestle (China); and NGOs like the Social Resource Institute (SRI).
Speakers from government think tanks, academic institutions and NGOs talked about China's experience in foreign investment and aid, and explored the significance of legal tools in promoting responsible foreign agribusiness and sustainable development.