Start main content
Caption: Oxfam Hong Kong strives to develop and nurture non-governmental organisations (NGOs) through programmes of poverty alleviation, community development and nurturing civil society organisations.

About our work
NGOs are institutions that help make the voices of vulnerable communities heard and facilitate their participation. On the road to develop China's civil society, the grassroots NGOs are an important force to unite the poor and the marginalised and disadvantaged groups, make their voice louder and exert influence. In addition of building the capacity of NGOs, Oxfam Hong Kong also support the establishment of supportive organisations in a number of provinces, to provide capacity building, exchange and learning opportunities for local NGOs. At the same time, we create a favorable environment for civil society's sustainment and development through promoting supportive policies and measures and public recognition.

Together, we can transform more lives!



Publications
《NGO運營模式研究案例集》 (Chi only)

Story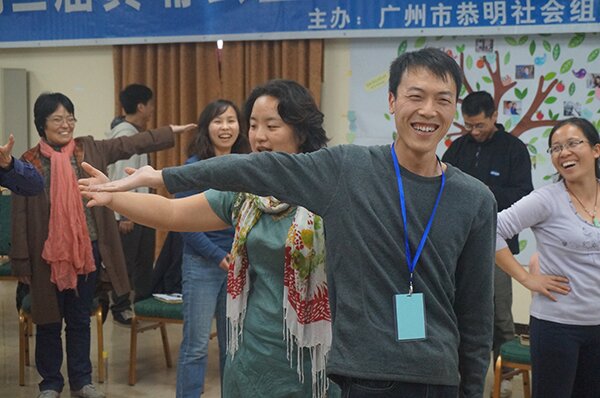 'Hearing each other's stories was really moving for all of us. It's good to know that you're not alone – someone in another part of the country is fighting with you.'
-- Ma Yonghong
Oxfam works with partner organisations to implement anti-poverty projects around the world. Understandably, the beliefs, values and ability of these organisations directly impact the quality of these projects and programmes. As such, we regularly organise training sessions for our partners to ensure we work together in the most effective way possible.
After attending a training session, Ma Yonghong, manager of our partner Shaanxi NGO Fellowship Service Center, realised that his attitude was like Tang Sanzang's in 'Journey to the West'. He said that he, like Tang, had been so focused on his mission that he forgot about caring for others.
Through workshops, seminars and other activities, Shaanxi NGO Fellowship Service Center helps young people gain a better understanding of charity work and gives them the skills they need to organise charity activities. Much like his peers, Yonghong has an incredible work ethic and deals with social problems alongside vulnerable communities. While he and many of his colleagues in the field often focus on enhancing their organisational and analytical skills when receiving training, they forget to work on one of the most important aspects: caring for others.
It was not until he attended one of our leadership training courses we supported that Yonghong realised how hurtful his words could be and the reasons behind his behaviours. He said, 'I don't have a heart of stone. I don't want to hurt those who love me or those I love, but when it comes to expressing love, I can be quite quiet, shy, clumsy and seem cold hearted.' In fact, during the leadership course, Yonghong said something hurtful which made another participant cry.
The leadership course has helped Yonghong and other participants improve their self-awareness, and helped Yonghong better understand his behaviours. This then led him to decide to change his attitude towards others and cherish each relationship. At work, he now does his best to empathise with and care for others. As he puts it, this has become a sort of 'exercise' to help him learn to love.
Many of Yonghong's peers in the field also joined the leadership course, through which they were able to gather and share their own life stories with one another. Yonghong said, 'Hearing each other's stories was really moving for all of us. It's good to know that you're alone – someone in another part of the country is fighting with you.' It was this thought that gave him the energy and motivation to continue his work. The course has also empowered Yonghong – he not only possesses good organisational skills now, but also better understands and empathises with his teammates.
We recognise that NGOs have different needs at different stages, which is why we are constantly exploring different forms of training to enhance organisations' abilities to meet their needs. It is our aim that all participants gain something from these courses and are better able to serve the vulnerable communities they work with, so that together, NGOs are able to bring about a fairer and more caring society.

Together, we can transform more lives!