Start main content
Oxfam believes that everyone can be an active agent in making a better world.
Through a great deal of various youth training programme, we strive to raise youngsters awareness on poverty and justice issues and to build up their sense of global citizenship.
We also co-organize teacher trainings and workshops with Education Bureau and local schools. Through the comprehensive programme teachers can exchange different teaching methods with others, and explore different issues on globalization, food justice, climate change and poverty.
2016 Teacher Development Programme – Nepal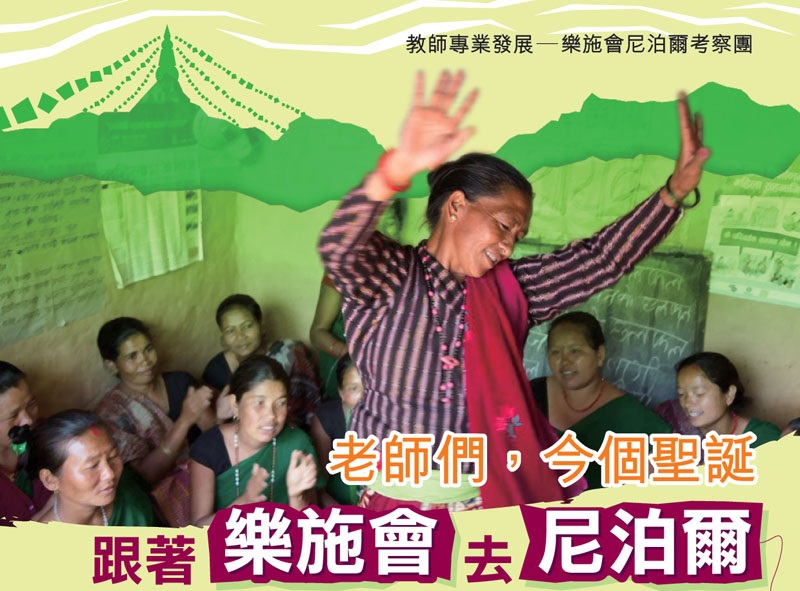 Teachers and social workers from Hong Kong and Macau visited farming and women cooperatives, earthquake relief and reconstruction work. Discussions on Nepal development, the impact of caste system, international relation among China, India and Nepal and the current challenges were covered.
Date:25-31 December 2016
Teachers' sharing:
"Namaste" is the word we used most frequently to greet each other in Nepal. In return, we were greeted back with warmest welcome and very humble sharing by the locals. Through the thoughtful arrangements by Oxfam staff, we were given chances to meet various NGO and to learn their missions and stories. I had seen the underprivileged women being empowered, earthquake victims' have their homes rebuilt, low-income villagers have their life improved through setting up co-operatives. I am thankful to be one of the participants in this journey. This trip has inspired me the responsible of being a global citizen and has enriched my life experience.

Lorenza Yeung, SKH Lam Woo Memorial Secondary School

This Nepal trip, though not my first experience that I have ever had with Oxfam, is, definitely, rewarding and insightful. Visits to local NGOs, home visits to households in remote villages and interviews with some of the victims of the Earthquake on 25th April, 2015 not only allowed me to have a better understanding of world issues such as humanities and women's rights, but, more importantly, made me have self-reflection on my own city life. Thanks to Oxfam for organizing such a meaningful trip that has broadened my horizons and enriched my teaching life.

Jo Ng, Macao Polytechnic Institute

My impression of Nepal has always been that of a mountainous nation with breathtaking sceneries. But the very moment I set foot in Kathmandu, I was greeted by thick blankets of sand and dust everywhere instead, and there was every sign of infrastructure deficiency. The earthquake in 2015 has caused widespread devastation to this capital city, bringing huge suffering to her people, of whom 80 per cent are peasants. They worry about not only food and shelter, but also medicine, education and prospect of jobs, if there is any. Having seen and heard their plight first hand, we, wealthy urban dwellers, have nothing but deep sympathy for them. Thankfully, Oxfam and other NGOs have been providing for these poor people and empowering them to become self-reliant all along. They have also been giving advice to the government and pressing them for policy and structural changes with a view to ridding Nepal of poverty and gradually bringing it onto the track of sustainable development. My best wishes to all people in Kathmandu and Nepal. I hope their living quality will continue to improve and they can enjoy the fruits of global development along with every other country in the world.

Jeff Fong, Po Leung Kuk No.1 W. H. Cheung College