Start main content
Caption: People from the Yi Ethnic Community in Tayilong Village, Shuangbai County, Yunnan Province, celebrating Dragon Festival and Women's Day.

About our work
China is the first country that met the UN target of halving the number of people living in extreme poverty, but the social factors that leave people at risk of falling into or back into poverty are showing a diverse and complex trend. As such, policy research serves a very important role in pooling resources together to implement an effective poverty reduction policy. Oxfam puts much emphasis on empirical research, action research and policy advocacy, and commits to promoting the alleviation and elimination of poverty problems at the institutional level. We are mainly concerned about the following three areas: empirical research on significant national poverty reduction policies, policy feedback based on action research, and food justice-related research and advocacy initiatives to improve vulnerable groups' nutritional intake and so that they can benefit from food systems.

Together, we can transform more lives!
Publication
Rural Energy Poverty and its associated countermeasures in China (Chinese Only)

Stories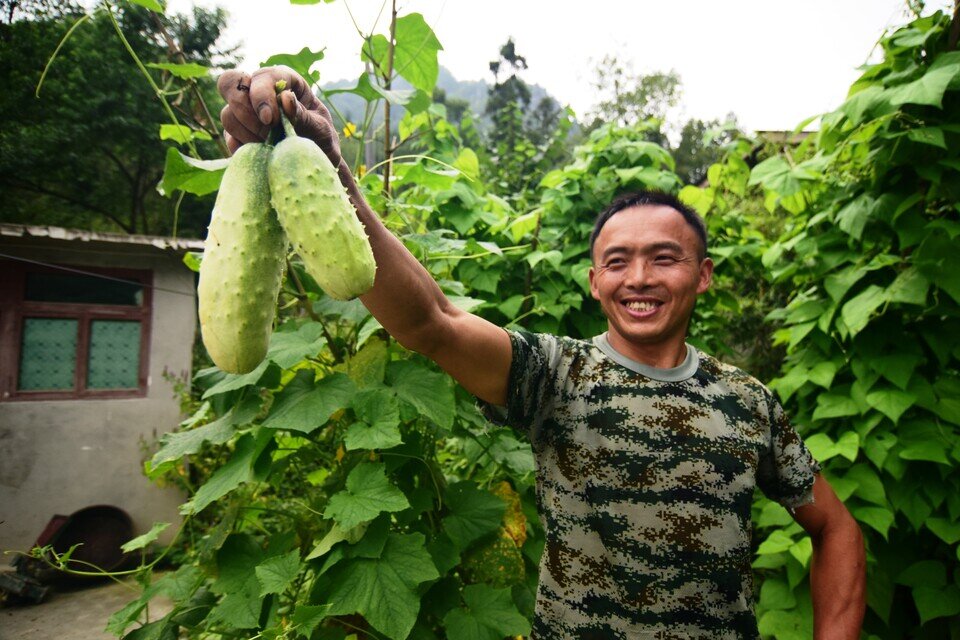 Every poor rural village needs a Huang Xingming: someone who dares to dream, tries new things, who isn't afraid of the challenges along the way and pushes forward.

Huang Xingming, a 41-year-old farmer from rural Sichuan, is the breadwinner of his family – he has a mother to take care of and children to look after. In recent years, many villagers have moved to the cities for work. Huang, however, decided to stay and grow the best vegetables ever. He doesn't envy his fellow villagers who've moved to the cities and earn a better income though because they face a whole slew of challenges being away from their families.
In 2017, Oxfam began implementing an eco-friendly farming project in Huang's village, which was perfect for him, an experienced farmer. 'Oxfam supported our visit to Chongqing and Chengdu to see how other farmers were doing after switching to eco-friendly farming methods. They also invited agricultural experts to our village to teach us how to make organic fertiliser. When using chemical fertiliser, the crop yields are better, but the quality is poorer and it's harmful to the environment. So, I decided to use organic fertiliser,' he explained.
The earth has life; Huang hears its every need as he works the land every day, and his hard work and tenacity has paid off. He now grows quality vegetables and his family's annual income has increased from 10,000 yuan to 20,000 or even 30,000 yuan.
Huang is open-minded, willing to learn new things and a role model in the village. His success has inspired 70 per cent of farmers there to switch to eco-friendly farming methods. He also plans to keep bees for honey, raise chickens and pigs, and grow herbal medicine on a plot of land near his house to boost his income.


The Oxfam Shop in Central saw the launch of a special product that's come all the way from Shaanxi during Chinese New Year in 2018: millet candy. This candy is the fruit of the labour of farmers who are a part of the livelihoods project we and our partner Xi'an Farmers' Market are implementing in the province.
In early 2018, I went to Shaanxi Province with actor, chef and hobby farmer Joey Leung (pictured to the right) to see how millet candy is made. On our way from Xi'an to the mountainous region of Fuping County, which is known for its millet candy, we got caught in the worst blizzard in eight years; all we could see around us was snow. Extreme weather is just one of the challenges small farmers in Shaanxi face – living in remote areas with little access to markets has also become an obstacle to residents here.
In Shaanxi Province, there are 50 counties that are recognised by the state as impoverished – including Fuping and Suide Counties – and they're all located on the Loess Plateau. Suide County produces millet, but since farmers in the area have been using chemical fertilisers and pesticides for many years, the environment has continued to deteriorate; despite growing more crops through this method, this has created a race to bottom. As a result, farming has become an unviable livelihood option and many have moved to the cities to find jobs, so villages are now dying out.
Since 2016, smallholder farmers have received support to grow different crops like millet and soybean in rural Shaanxi through Xi'an Farmers' Market's project. In Majiachuan Village, Suide County, participants of the project are encouraged to cultivate crops in an eco-friendly way through the training they receive; we've also set up an online platform and linked farmers to farmers' markets so they can sell their crops more effectively. Now, farmers don't use chemical fertilisers, pesticides or herbicides anymore. This has not only put a stop to environmental degradation, but has also provided villagers and future generations with safer food.
Our partner organisation has also enlisted the help of Master Sun, who we met; he's been making millet candy for over 30 years. After a 40-hour process, he was able to handmake millet candy using Majiachuan Village's millet. Millet candy has not only boosted millet sales, but has also helped more people learn about the quality ingredients used to make the candy as well as this traditional craft.
The success of this project has encouraged villagers in Majiachuan Village to continue this way of farming and more farmers to join the project. They now also grow crops like mung beans, red beans and black beans; some have even begun raising chickens, and replacing the fertiliser they use with chicken manure, thus creating an ecofriendly way of growing crops and raising livestock. Steps like these aren't only improving and protecting the environment, but also enhancing the quality of villagers' food and even their livelihoods.
Text: Mabel Wong / Fundraising Manager - Appeals (Individuals Acquisition)

Together, we can transform more lives!