Start main content
Caption: Lijiashan Elementary School on the slopes of Taishi Township, Kangxian County, Gansu Province.

About our work
The main goal of Oxfam's Basic Education Programme is to improve the quality of basic education and ensure that those in poor communities have equal access to them. Together with various government departments and organisations across society, we have been able to implement projects in Guizhou, Gansu, Yunnan, Qinghai, Beijing and other provinces and cities. For instance, we have assisted in the construction of schools, the recruitment of volunteer teachers, trained teachers, developed a curriculum for rural schools, facilitated the implementation of bilingual teaching, and worked to improve the quality of education for migrant children. We have also been exploring and sharing our experience in education in the western region of the country and of migrant children to ensure education is well-rounded and fits local contexts.

Together, we can transform more lives!
Publication
Basic Education Programme Brief (Chinese Only)

Stories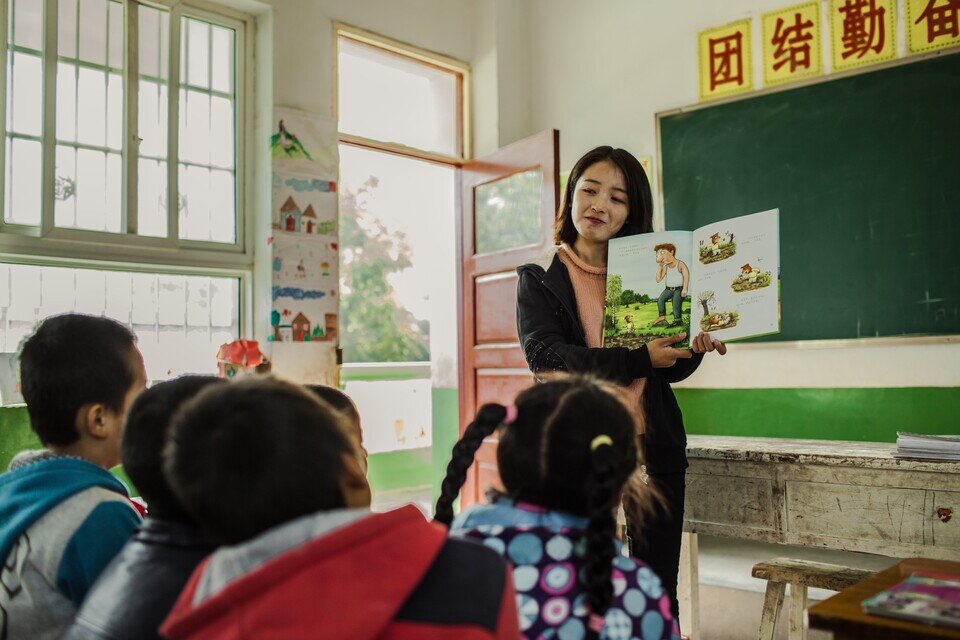 'Picture books have many beautiful illustrations and relatively fewer words. Compared to textbooks and other children's books, the children prefer reading these.'

Kang County lies along the border between Gansu – where it is situated, Sichuan and Shaanxi Provinces, and is recognised nationwide as an impoverished county. High atop a mountain in Taishi Township in the county is Lijiashan Primary School – one of the most impressive structures in the area.
Lijiashan Primary School is a microcosm of schools in rural China. The infrastructure of these schools is improving, the quality of education at these schools is catching up to their urban counterparts, but the student population is continuing to dwindle. At Lijiashan Elementary School, there are now only four grades and some classes only have five children.
After graduating from Northwest Normal University, Zuo Nana took the teacher entrance examination and was sent to Lijiashan Elementary School to teach Chinese and English. Although she did not pick the school, she has been teaching with great enthusiasm and always tries to find ways to teach her students more effectively.
As she began teaching at the school, she realised that many of her students had poor language skills, and their writing lacked imagination. Reading more would help them build up their vocabulary, but half of her students are left-behind children; without their parents by their side to guide them though, it's hard for them to even finish their homework. She could only encourage her students to read books at school, but even that proved difficult. The books that were available at school were too text-heavy to keep young children interested in them.
After hearing about a training programme Oxfam and Shanghai Smiling Youth Charity Service Center (aka Smiling Library) held to help individuals learn how to read picture books to children, Zuo Nana joined it. Through it, she and other teachers received professional training in this area and were offered continued support to enhance their capacity as rural teachers. Zuo Nana not only took part in the programme but also brought picture books back to her school and read them with her students. Although reading books aloud at school seemed like a simple activity, its effects were unexpectedly good.
In her Chinese classes, if there is time after talking about the contents of the books they read, she reads the book to her students, who quickly become engrossed in the story. Even when the bell rings after class, none of them want to leave their seats. 'These books have many beautiful illustrations and relatively fewer words. Compared to textbooks and other children's books, the children prefer reading these,' she said.
Aside from a newfound passion for reading, Zuo Nana also found that the books encouraged her students' imagination, which made their writing livelier and much more creative. Without having to memorise information through rote learning, the vocabulary and phrases they learnt from the books naturally stuck, and the children enjoyed using these words and phrases in their homework and tests. Small changes like these are giving Zuo Nana great satisfaction.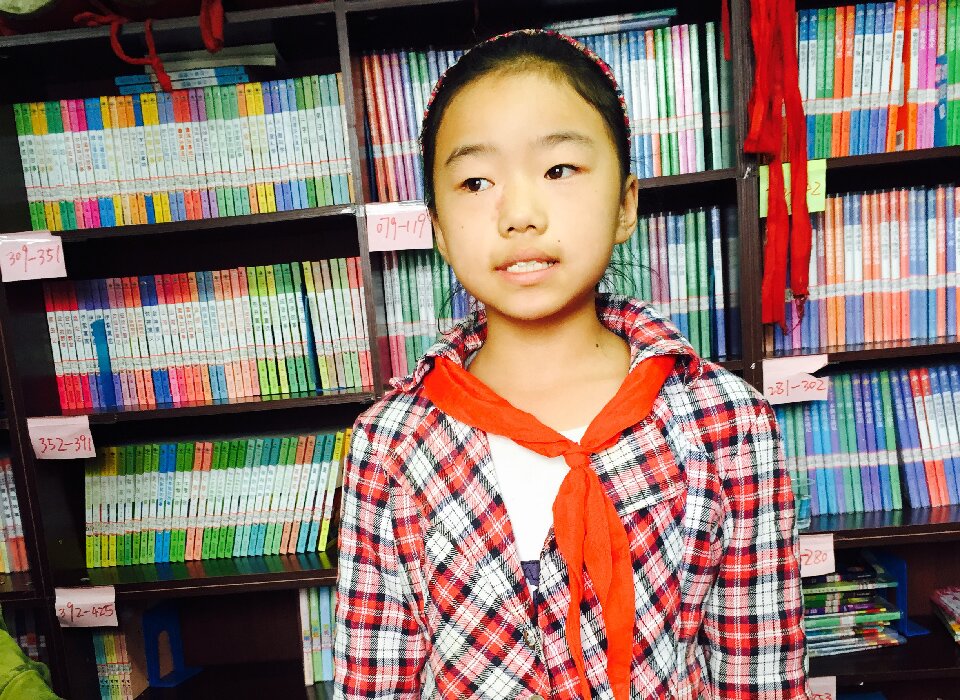 'I used to only be able to write 100 words. After taking these classes though, I can write much more – 500 words isn't even difficult.'
-- Long Guimei, a student in primary 6

'The moon shines brightly on my bed; I mistake it for frost on the ground. I raise my head to look at the bright moon, then lower my head and think of home.'

Every school day at 4:30 pm, the voices of children reciting poems can be heard from the third floor of Jingwen Primary School in Guiyang City. Aside from reading Tang poetry, students also read well known novels like Journey to the West and Romance of the Three Kingdoms. Long Guimei, a student in Primary 6, regularly takes part in her school's Tang Poetry Reading Class. She's got a lively personality, and she loves to read and draw. She and her classmates used to live in a village in Guizhou Province, but moved to the city with their parents because of work.

Guiyang City's migrant workers mostly work in construction, manufacturing and transportation, and barely make enough to get by. With the shortage of public schools in the city and migrant workers' lack of documents to enrol their children in these schools, parents of these children have no choice but to enrol their children in schools that aren't run by the government, like Jingwen Primary School, which generally lack teaching resources.

It's naturally difficult, then, to attract teachers to come and teach at these schools. This not only affects the quality of teaching, but also student development and even the provision of extracurricular activities. To address this, we've been working with our partner organisation Association of Women's Capacity-building and Development to organise Tang poetry reading classes. We've also put together other extracurricular activities like drawing, storytelling and silk flower making classes to enrich migrant children's educational experience.

By reading their favourite novels, students not only learn more vocabulary, but are also able to improve their writing skills and self-confidence. Guimei said, 'I used to only be able to write 100 words. After taking these classes though, I can write much more – 500 words isn't even difficult.'

Note: Guimei has since graduated from primary school and is now in secondary school.

Together, we can transform more lives!