Start main content
As the coronavirus pandemic continues to spread, Hong Kong's economy has taken a blow – many businesses are laying staff off or closing down. To understand the impact this has on people from low-income households, Oxfam Hong Kong, Agape Community Care Centre of Kwun Tong Methodist Social Service, Concerning CSSA and Low Income Alliance and Hong Kong People Service Centre conducted the 'Survey on low-income families' employment situation amidst the epidemic'. Between 16 and 22 March, we conducted telephone interviews with 364 families that either lived in a subdivided flat, or earned a monthly income that was less than 70 per cent of the Hong Kong median income. The results of the survey, which were announced on 26 March, include the following:
Number of unemployed respondents – This number jumped from 32 before Chinese New Year to 161 – a 400% increase
Part-time and causal jobs – The number of part-time/casual jobs dropped drastically after Chinese New Year; they dropped 38.6% and 47% respectively
Reasons for unemployment – 30% of respondents attributed unemployment to the lack of part-time/casual work opportunities; a further 21.7% attributed it to company layoffs, while 13% cited company closures
Company layoffs – Over a quarter of respondents knew of impending layoffs, nearly 30% said their employers had hinted at future layoffs, while roughly 1 in 8 respondents said their employers had asked workers to resign on their own
Economic burden – 90% of respondents said that the coronavirus had severely or very severely impacted their families livelihoods, over 70% indicated that they would reduce their daily food expenses and go out less, and 37% even said they needed to borrow money from relatives and friends
Employment prospects – 75% of respondents said they had little or extremely little confidence that they would be able to keep their job or find one
Respondents' expectations of government – Nearly 80% said that a short-term unemployment allowance would help them, while 55% believed creating more short-term employment opportunities would be helpful
To relieve the difficulties low-income families are experiencing, we urge the Government to:
Offer a short-term unemployment allowance of HK$5,800 for at least six months for unemployed and underemployed people from low-income families receiving assistance from the Working Family Allowance or Student Financial Assistance Schemes (the amount should be adjusted based on the number of people in each family). As for low-income families that are not recipients of any of these allowances, and those without children, the Government should provide a special allowance through The Community Care Fund to meet their urgent needs.
Offer unemployment insurance (that takes reference to the UK, US, Japan and South Korea's experience) to provide additional protection to low-income workers.
Take the lead in creating jobs and offering training. It should take reference to our experience from SARS in 2003 and create more short-term jobs. The Employees Retraining Board should also extend the maximum monthly allowance to more courses, so more workers from different industries obtain training, and improve their employability.
Add the novel coronavirus into its list of prescribed occupational diseases under the Employee's Compensation Ordinance to offer compensation to those who catch the virus, and secure their livelihoods when they cannot work.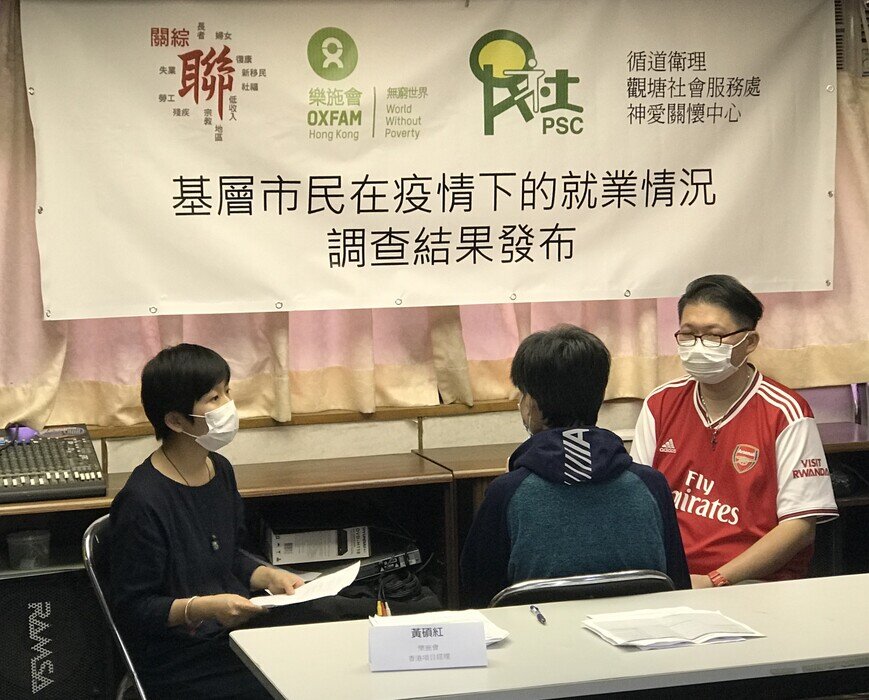 'The past few nights, I've been walking around until 2 am to find a "good" spot for myself where I can live after I become homeless.'
Mr. Chan (pseudonym), almost 50, recently lost his job after working in the food and beverage industry for years.
Mr. Chan, almost 50, has worked in the food and beverage industry for years. Last October, he was laid off from his job at a restaurant because business was bad. He then found a part-time job at a cha chaan teng, but again was laid off in mid-February, but this time without notice. Since then, he's applied to over 10 jobs at other restaurants, retail stores, coffee shops, supermarkets and such, but hasn't had any success. 'They either say they have enough staff or they're laying people off,' Chan said.

Despite working hard, he wasn't able to earn or save much, and after being laid off, he used up the little he could save. He has never applied for financial assistance – he didn't even apply for the HK$4,000 handout in 2019 because he felt the amount he was earning at the time (roughly HK$10,000 a month) was still enough to help him get by. Even at the time of this interview, he said he wanted to find a job as soon as possible so that he could support himself without the help of any kind of subsidy. 'As long as I'm physically and mentally able, I'd like to pull myself up by my bootstraps,' he said.

At the time of the interview, Mr. Chan was renting a bedspace apartment; he couldn't cook there and didn't even have his own kettle – he had to share one with over a dozen people. After losing his job, he said he lived off of HK$7 cup noodles, and bread he bought at a discount. 'Before I lost my job, I could still afford two to three meals a week that had rice and vegetables. I haven't had rice in a while though,' he shared. Now that those meals have become a luxury, and he can't afford to rent the HK$2,200 room he used to live in, he's bracing himself for the worst – he's pretty sure his landlord is going to ask him to leave and he'll be homeless by April.

With few days left before he knew he was going to have sleep on the streets, he spent a few nights walking around Salisbury Road and Avenue of Stars until 2 am. Why? To look for a 'good' spot where he can live after he gets kicked out. While walking around the area, he noticed over a dozen homeless people who, by his estimation, were also forced to live on the streets because of circumstances like his.