Start main content
Many workers move from their villages to the cities to improve their livelihoods, but face difficulties due to unfair policies. Oxfam collaborates with civil society and academic partner organisations to work on urban livelihood programmes in 11 cities, most of them in the Pearl River Delta, Beijing, and the Yangtze River Delta. Through our messages about workplace safety and our work on community services, education, campaigns and legal assistance, we have helped more than 200,000 workers and their families develop stronger livelihoods, and learn about labour laws and their rights.
Fang of Xiaojinyan
'People say children in Xinqiao are herded like sheep. Their parents go to work in factories, and every week, they can only spare a few hours with their kids,'Fang, a migrant worker, said.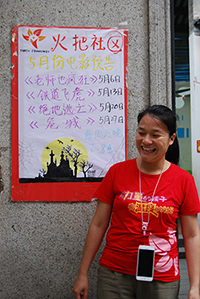 Xinqiao – in the Panyu district of Guangzhou – is home to many factories and has attracted a large number of people from the rural areas to work there. Fang told us, 'It's hard for the children of migrant workers who don't have household registration to be admitted into public schools. Since some parents work day and night to earn more money so that their kids can attend private schools, they don't have much time to spend with their children. Many more migrant workers, though, can't afford to send their kids to private schools, so they send them back to their own villages for school instead, and are only able to call their kids once a month.'
Seeing the need for community services among migrant workers, Oxfam began partnering with Xiaojinyan Community Public Service Center, Panyu District, Guangzhou, in 2013 to provide child care and tuition services. Together with our partner, we also provide interest courses and parent-child activities, and reach out to parents to understand their needs.
Fang moved to Xinqiao with her three-year-old son, Xixi, in 2006. Since both she and her husband spent most of their day working at a factory, they didn't have much time to take care of their son. She said, 'In 2013, when Xixi was in primary four, we enrolled him in Xiaojinyan's tutorial classes so that he'd be better cared for. I then squeezed time out of my schedule to volunteer at Xiaojinyan.'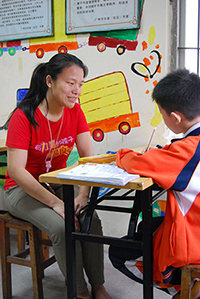 It's really encouraging to see participants of our programmes being empowered and helping others. In 2015, Fang was recommended by Xiaojinyan to attend a course on positive discipline designed especially for community educators and parent volunteers. Sharing her experience, Fang said, 'The course taught me how to improve kids' emotional wellbeing and increase mutual trust between kids and their parents.' Shortly after completing the course,
Fang became a full-time worker at Xiaojinyan.
In mainland China, there are many migrant workers who live in communities that, like Xinqiao, lack a support network. To address their needs, we not only provide services in the community, but also advocate for a friendly and safe environment for migrant children from both a family and community perspective. We also advocate for the improved implementation of compulsory education policies at the local level and help migrant workers adapt to life in the city.
Photo: Tam Siu Man / Oxfam