Start main content
With infrastructure damaged, survivors were unable to go back to farming their land and earning an income. In response, Oxfam offered cash-for-work programmes to over 20,000 people affected to rebuild the crumbling infrastructure. Bimala (pictured), 27, was involved in rebuilding irrigation channels for hillside fields under our cash-for-work project. (Photo: Kieran Doherty / Oxfam)
Updated on 31 May 2019
Nepal earthquake: Creating lasting change for survivors
On 25 April 2015, a massive 7.6 magnitude earthquake struck Nepal that left nearly 9,000 people dead, and destroyed or damaged more than 850,000 homes. Further devastation was caused by hundreds of aftershocks; the earthquake not only brought with it physical destruction, but also severely impacted the economy and employment. Women, children, the elderly, people living with disabilities and those belonging to 'lower castes' have all been disproportionately affected.
Thoughts from the Frontlines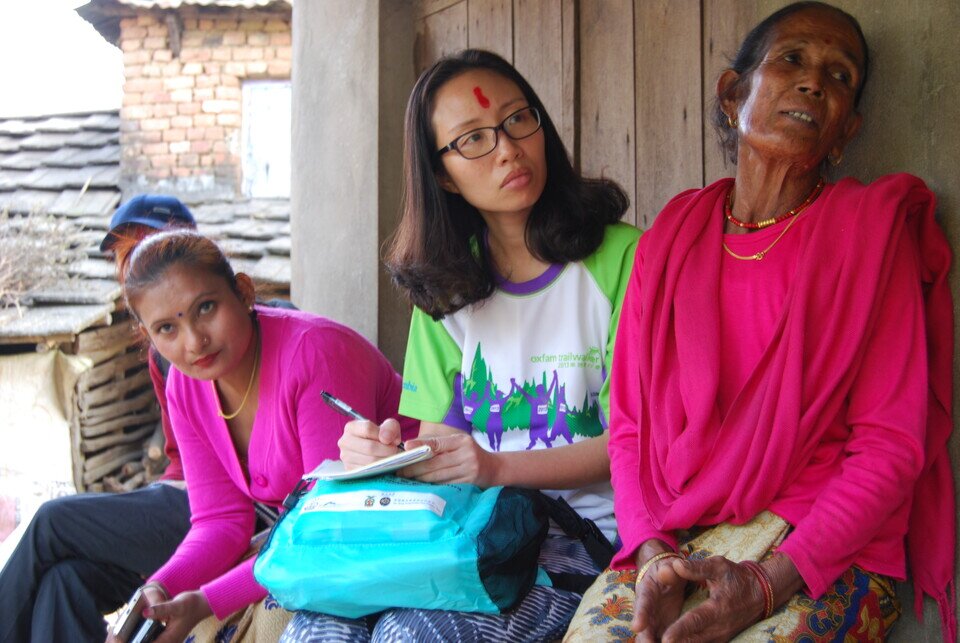 Building Back Better
Kate joined Oxfam Hong Kong in 2013 as humanitarian and disaster risk management programme officer. Her work has put her in touch with a lot of disasters and emergencies. What has impressed her most is the power of people, and the fact that those in disasters are able to say: "We are homeless, but not helpless."
Oxfam's immediate and long-term response
Oxfam immediately responded by providing lifesaving relief including emergency food items, drinking water and by setting up temporary shelters. In some of the worst-hit districts and temporary camps, our technical experts constructed water tanks, latrines and sanitation facilities to prevent the outbreak of waterborne diseases. We also distributed rice seeds and agricultural tools to farmers so they could recover their means of living.
The earthquake exacerbated the problem of land ownership because many survivors lost their land certificates or identification. Some women also failed to obtain government-sponsored assistance because they could not prove their land ownership as most of the men – who are officially the land owners – work abroad. Because of this, these women are often unable to receive assistance from the government. That is why, Oxfam has been working the Nepalese government to reissue citizenship certificates and replace their identity cards, and ensure survivors – most of whom are women – to obtain social security documents.
To enable survivors to rebuild their livelihoods and communities sooner, we worked with partner organisations to offer cash-for-work projects. Through them, over 20,000 survivors – many of whom are women – cleared debris, rebuilt trails and repaired irrigation systems, and restored community infrastructure. This work not only enabled survivors to earn an income and not fall into poverty, but was also very empowering, especially for women.
In response to the disaster, Oxfam also:
Repaired water infrastructure and provided schools and mountain communities with water
Trained survivors in areas like carpentry and masonry so they could rebuild their homes to withstand future shocks
Waterproofed livestock shelters
Supported the construction of agriculture-related production infrastructure, including an irrigation canal, collection centre, processing unit, micro-hydro power system, and supported local markets
Offered families support to restart their businesses
Set up an urban job hub so survivors could find employment
Oxfam worked in seven of the 14 hardest-hit districts: Kathmandu, Lalitpur, Bhaktapur, Gorkha, Sindhupalchok, Nuwakot and Dhading.
Building Back Better
Thousands of people who survived the earthquakes of 2015 but lost their houses have faced challenges to rebuild their houses. This video is about how people are learning new skills to build their houses themselves.
Our response in numbers