Start main content
30 JUL 2022
Oxfam and SIE Fund's first Pay-for-Success project in Hong Kong offers ethnic minority kindergarten students Chinese enrichment classes and online platform for public access of teaching resources
Supported by the Social Innovation and Entrepreneurship Development Fund (SIE Fund) in 2020, Oxfam Hong Kong (OHK), worked together with the University of Hong Kong and the Education University of Hong Kong, has launched the first "Pay-for-Success" (PFS) project in Hong Kong. PFS, also known as "Social Impact Bond", is a new public-private partnership which develops, coordinates or expands effective social services by introducing investors to provide capital for the innovative service and diversify risks through performance-based contractual agreements.
Named as "Start from the Beginning - Chinese Supporting Scheme for Non-Chinese Speaking Students (NCS) in Kindergarten", the project is the first PFS project in Hong Kong. Being the first project to adopt the "Dynamic Enrichment Learning Mode (DELM)" developed for non-Chinese speaking (NCS) students, alongside a train-the-trainer model to train teachers, the project has achieved notable results. The project has up to now supported over 1,200 NCS students and 170 teachers. The NCS students of "seed schools" (directly taught by the project's consultant teachers) have improved their assessment scores on pronunciation of Chinese characters by three fold while in terms of word association, 409% improvement. Teaching resources have been uploaded to online resources platform of the project for free public access and download, with a view to benefiting more NCS students.
On 30 July, OHK held a seminar about "Start from the Beginning - Chinese Supporting Scheme for Non-Chinese Speaking Students (NCS) in Kindergarten" at the University of Hong Kong. In addition to an exhibition showcasing the achievements made through the project, teachers who participated in the project will also be invited to share and exchange their experience.
OHK's Director General, Ms. Kalina Tsang, said: "At present, almost one in three South Asian children in Hong Kong lives below the poverty line. Government reports have pointed to their Chinese proficiency as a major factor, which affects both their studies and future employment. Oxfam believes that providing NCS students with more appropriate educational materials to help them learn Chinese during the golden window of opportunity for language learning will help them improve their competitiveness in the long run and enable those living in poverty to escape it. We also hope that by sharing the successes of this PFS project, more investors and organisations will explore this model to implement large-scale projects to bring about a greater social impact."
The Vice-Chairperson of SIE Fund Task Force, Mr. Alvin Miu, said: "The SIE Fund seeks to catalyse the pilot development of PFS in Hong Kong, with a view to introducing various resources beyond the Government, including capital, knowledge, expertise, network and etc., to drive social innovation collectively and provide alternative investment opportunity with long term social impact to investors. All funds required a PFS project during the implementation stage will be provided by investors, commissioner will pay the investors only when the project has achieved the agreed outcome levels and investors will receive financial returns on top of the project cost. Such arrangement provides more incentives for various stakeholders to improve the service outcome, we believe more benefits to target beneficiaries could be generated as compared with traditional service procedure model.
Platform to exchange and share results with professionals
This project is committed to providing advanced professional training courses for participating teachers from seed schools and network schools. Under the "train-the-trainer" model, teachers strengthen their pedagogical knowledge and skills on teaching Chinese as a second language. In this sharing session, teachers who have participated in the training the course will share their teaching insights, experience and achievements gained from taking part in our project as well as their schools' support for non-Chinese speaking students and teaching strategies amid the COVID-19 pandemic.

Participating teachers will present their teaching achievements via various means in this sharing session, including an exhibition showcasing learning outcomes and parallel sessions covering a range of topics. By providing a professional platform, the project offers an opportunity for participating teachers to reflect and contribute to the learning and teaching of Chinese to young NCS students and share their teaching accomplishments with fellow early childhood educators.
Online teaching resources and picture books
Entering the second year of the project, we hope to further improve the Chinese proficiency of NCS students and narrow the gap between the proficiency of Chinese and non-Chinese speaking students by at least half. On the other hand, development of curriculum and teaching kit (which includes picture books and nursery rhymes) for teaching Chinese as a second language has been completed and uploaded to the newly developed online resource platform for sharing with all teachers and parents in Hong Kong.
Members of the public can access the website here: https://kgcsl.edu.hku.hk/ (registration is free)
We hope that this project, serving as a showcase, could help facilitate the development of "pay for success" and "social innovation" ecosystem and encourage more people to participate. In the future, Oxfam will also consider scaling up other established projects through PFS model to expand the social impact.
- End -
Supplementary information
What is Pay for Success?
PFS is a public-private partnership which funds effective social services through performance-based contractual arrangements and enables governments to partner with high-performing service providers by using private investments to develop, coordinate or expand effective programmes. It is a series of contractual arrangements, typically facilitated by an Intermediary, which involve Investor(s) providing up-front the required funding for a programme to improve social outcomes, and the Commissioner/Outcome Payer (typically government agencies) paying the investor(s) the amount injected to the programme, possibly with financial returns, subject to and depending on the social outcomes achieved by the Service Provider(s) as assessed by an independent Evaluator. It leverages investors' risk-sharing to enable funding of more innovative or preventive initiatives which are currently not yet covered in the government regular programmes.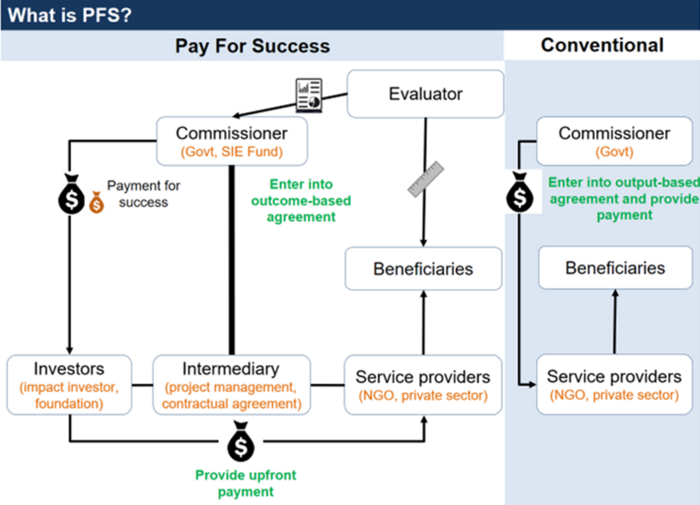 About "Start from the Beginning – Chinese Supporting Scheme for Non-Chinese Speaking Students in Kindergarten"
OHK launched "Start from the Beginning – Chinese Supporting Scheme for Non-Chinese Speaking Students in Kindergarten" in 2015. With notable outcome achieved, the SIE Fund has supported adoption of PFS model to drive further collaboration among public, private and various sectors for this programme, which becomes the first PFS project in Hong Kong and also the world's first PFS project that focuses on language education for ethnic minority children. This PFS project was also awarded the 'Outstanding Social Service Awards' by the Hong Kong Council of Social Service (HKCSS). Through the 2021 Best Practice Awards in Social Welfare, the project was recognised for its outstanding performance in the social service sector.
SIE Fund is the commissioner of this PFS project while OHK is responsible for the design, implementation, performance management and coordination work, it is also the main service provider of parental support. The Faculty of Education of the University of Hong Kong and Centre for Child and Family Science of the Education University of Hong Kong are the leading partners of the project, responsible for curriculum development, teaching, design of teaching material, outcome evaluation and teacher training. The Hong Kong Council of Social Service is the local consultant and is responsible for hiring independent evaluators. The three investors are Wu Jieh Yee Charitable Foundation, Lee Hysan Foundation and OHK. Lasting for three years, if the output and outcome targets set out at the beginning of the project are achieved, investors will be repaid for their upfront capital and financial return.
Features of "Start from the Beginning – Chinese Supporting Scheme for Non-Chinese Speaking Students in Kindergarten" and its Effectiveness
1) Dynamic Enrichment Learning Mode: The curriculum is theoretically based on DELM, an innovative pedagogy developed by the project team that combines mainstream and second language curriculum, where NCS kindergarteners learn with their Chinese-speaking classmates in both group and immersive settings. Under DELM, teachers have the flexibility to adapt teaching contents according to students' capability and needs. Consultant teachers of this project will teach in four 'seed schools'. Prior to class, they will offer NCS students a preview of what will be taught, so that NCS students have more time to grasp the content, and boost their confidence and participation while in class with their Chinese-speaking counterparts.
2) Promotes Chinese as a second language curriculum: Development of Chinese as a second language enrichment curriculum guidelines, teaching materials and teaching methods and assessment tools.
3) Train-the-trainer model: Teachers in 70 'network schools' are trained through train-the-trainer model. Teachers will acquire relevant knowledge on curriculum design, teaching method, assessment tools and implementation for teaching Chinese as a second language.
The project offers support in six areas. In addition to the three mentioned above, it also covers professional development for teachers, including inter-school knowledge exchanges, workshops and seminars. Relevant teachers' experience will be shared with the industry through workshops and online platform in the third year. The project also supports parents through offering information on primary school admissions, conducting workshops for parents, operating a form-filling service and hotline for answering questions on primary school admissions. During the first two years of the project, the project supports 74 kindergartens that admit NCS students, accounting for one-fifth of kindergartens in Hong Kong.
The project has achieved remarkable results over the past two years. After the end of the first semester, NCS students in seed schools made significant progress in their Chinese proficiency. When comparing their scores in pre- and post-tests, K2 students of seed schools achieve nearly 100% improvement while K3 students also achieve comparable results.
With respective to assessment on individual aspects, in terms of word association, for instance, students achieved an average increase of about 410%. On word recognition and speaking, the average scores increased by a whopping nearly 310%. The project enables most students to understand and speak Cantonese with confidence. Some students have even attained the highest rank in their Chinese classes in primary schools, and even assisted their parents in learning Chinese.
Regarding the support in network schools, teachers receiving trainings through 'train-the-trainer' model have also achieved significant improvement in teaching skills with effect size score of 1.99.
Continuous support under during the pandemic
During each wave of the pandemic, kindergartens had to stop face-to-face classes, and the non-Chinese speaking children saw setbacks in their Chinese language ability due to the lack of an environment that was conducive to learning Chinese at home.
As a result, our team has changed strategies by introducing online classes. These offered students with summer Chinese enrichment courses in the format of small groups, and with the help of diversified online teaching resources we developed on various topics. These included worksheets, storytelling videos, nursery rhyme videos and such. This encouraged parents and children to participate in the learning process together so that children could continue learning Chinese at home. The students that joined these classes were all excited and engaged.
Before the suspension of classes, Oxfam Hong Kong had asked parents whether the Internet devices in their homes could technically support online classes. We also assisted on applying free Internet access services from social welfare organisations for families in need, so that their studies would not be affected by class suspensions. Moreover, we prepared a Zoom manual for parents to engage in e-learning, so that they could help their children connect to the Internet and facilitate their children's online learning. In addition, Oxfam Hong Kong set up a hotline for consultation services and arranged training for ethnic minority teaching assistants to communicate with parents on a regular basis to remind students to attend online classes. The teaching assistants also helped translate the latest COVID prevention measures, e-learning resource sets, and information on choosing primary school into various languages. These resources were recorded into short videos and delivered to parents through instant messages so that they could effectively assist their children in their learning and keep up to date with the latest information.
We also provide teachers with training on how to conduct online lessons. Since the training itself was also conducted online, more teachers were able to participate. After the resumption of face-to-face classes, we prepared clear masks for teachers, so that the children could clearly see the oral movements of the teachers, which enhanced children's ability to learn how to pronounce Chinese words accurately.
About Oxfam Hong Kong
Oxfam is a global organisation committed to creating a world without poverty through its advocacy, development and humanitarian work.

For media enquiries, please contact:
(For English)
Samantha Wong
Senior Communications Officer
Tel: 3120 5281
Email: samantha.wong@oxfam.org.hk
(For Chinese)
Roni Chan
Communications Officer
Tel: (852) 3120 5222
Email: roni.chan@oxfam.org.hk