Start main content
16 JAN 2013
Winnie Byanyima appointed to lead Oxfam International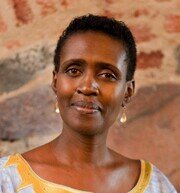 Winifred (Winnie) Byanyima, a grassroots activist, human rights advocate, senior international public servant and world recognised expert on women's rights, has been appointed Executive Director of Oxfam International – a role that provides strategic direction and coordination for the worldwide confederation of Oxfam affiliates.
Ms Byanyima has held roles that reinforced the governance of the African Union. She influenced the international agenda at the United Nations and through her leadership in many coalitions of civil society organisations. She is recognised for extensive work in peace-building, budget and electoral reform, and building social coalitions. She is also an authority on the gender dimension of climate change, economic policymaking and social and economic equality. In her earlier career, she founded a still-thriving NGO in Uganda and served three terms as a member of the Ugandan parliament.
From April, Ms Byanyima will lead Oxfam International, which offers strategic guidance, support, expertise and coordination across Oxfam. Oxfam works with people in 94 countries to find effective ways to end the injustice of poverty. Through its 17 affiliates, Oxfam provides humanitarian relief in crisis, empowers poor and marginalised people to gain social and economic equality, and campaigns for a more just world.
Ms Byanyima was selected after a global search, led by the Chair of Oxfam International, Keith Johnston, with the help of an international executive search firm. "In an outstanding field of candidates, Winnie stood out as exemplifying Oxfam's values and ambitions," he said. "She brings clear vision fired by her commitment to social justice, the toughness of an able negotiator and campaigner, and leadership based on her capacity to inspire and convene, in many circles, cultures and levels."
"The world is witnessing a shift in global development, growing inequality, volatility on many levels, and mounting aspirations and impatience for change," said Byanyima.
"Oxfam understands how this changing context means it must be strategic and adaptable in its mission to overcome poverty and reinforce peoples' rights. I am very proud to be invited to lead such an important organisation as Oxfam, with its passionate commitment to social justice."
Ms Byanyima earned engineering degrees in aeronautics and in energy conservation and the environment in the United Kingdom, where she went as a refugee student during the repressive regime of Idi Amin in her native Uganda.
She was an engineer for Uganda Airlines before being appointed to the diplomatic service in 1989, where she represented Uganda in France and at UNESCO in Paris. She returned to Uganda in 1994 and served as a member of parliament until 2004, actively representing a poor urban constituency and developing expertise in parliamentary process and practice as well as forming the first parliamentary all-party women's caucus. In that same period, she founded and led the Forum for Women in Democracy (FOWODE), a national NGO in Uganda to champion women's equal participation in decision making.
From 2004 to 2006, she established and directed a unit for women, gender and development at the African Union Commission as part of a mandate to improve the institution's governance and equality. In 2006, she moved to the global stage as director of the gender team of the United Nations Development Programme, working on crucial issues of development, climate change and economic policy through the prism of gender considerations. In that role, she also co-founded a 60-member Global Gender and Climate Alliance of civil society, bilateral and multilateral organisations, and chairs UN-wide task forces on gender aspects of the Millennium Development Goals, and of climate change.
Ms Byanyima will replace Jeremy Hobbs who decided last year to step down after serving as Executive Director of Oxfam International since 2001. Under his leadership, Oxfam has become an ever more respected and effective global enterprise that has increased its impact through the closer coordination of its affiliates and its programmes.
- END-
About Oxfam
Oxfam is dedicated to fighting poverty and inequity worldwide. The international and independent development and humanitarian organisation tackles poverty in four main ways: sustainable development in poor communities, disaster relief, local and global advocacy, and education with Hong Kong youth. Established in Hong Kong in 1976, Oxfam Hong Kong is a founding member of Oxfam, an international confederation that has assisted poor people in 94 countries. Oxfam Hong Kong alone has supported poor people in over 70 countries/regions.