Start main content
Oxfam Hong Kong (OHK), together with its partners Hong Kong Catholic Commission for Labour Affairs, Cleaning Workers' Union, Cleaning Service Industry Workers Union and Health In Action, conducted 'Survey on Outsourced Workers and Their Working Conditions Amidst COVID-19' (Chi only) to better understand cleaners' needs and the challenges they face between 6 and 13 February. A total of 149 government-outsourced cleaners from 15 districts across the FEHD, LCSD and Housing Departments were interviewed. OHK and its partner organisations announced the findings on 18 February 2020. The main findings include:
30 per cent of cleaners said their companies had not provided them with masks
Among the cleaners who were provided with masks, nearly 40 per cent received less than one per day
Nearly half of respondents said their companies had not provided them with disinfectant to clean the trash cans / latrines
85 per cent of the cleaners said that their company had not provided guidelines on how to deal with used masks on the street
80 per cent of workers said they had not received any training on preventing the spread of the novel coronavirus
Over 10 per cent of cleaners said they were required to clean quarantined buildings when asked by their companies
OHK urges the HKSAR Government to fulfil its responsibilities, and:
Increase the supply of masks as soon as possible, and provide 1.3 million masks to cleaners each month
Step up inspections and supervision to ensure the occupational safety and health of street cleaners
Include the novel coronavirus under the scope of occupational disease in the Employee's Compensation Ordinance
Require outsourced cleaning companies to provide cleaners with training on epidemic prevention
Not allow workers to handle quarantined households' garbage without adequate training and equipment
Develop epidemic prevention guidelines that require employers to implement quarantine policies for employees who have been to affected areas
A day's wages for a box of masks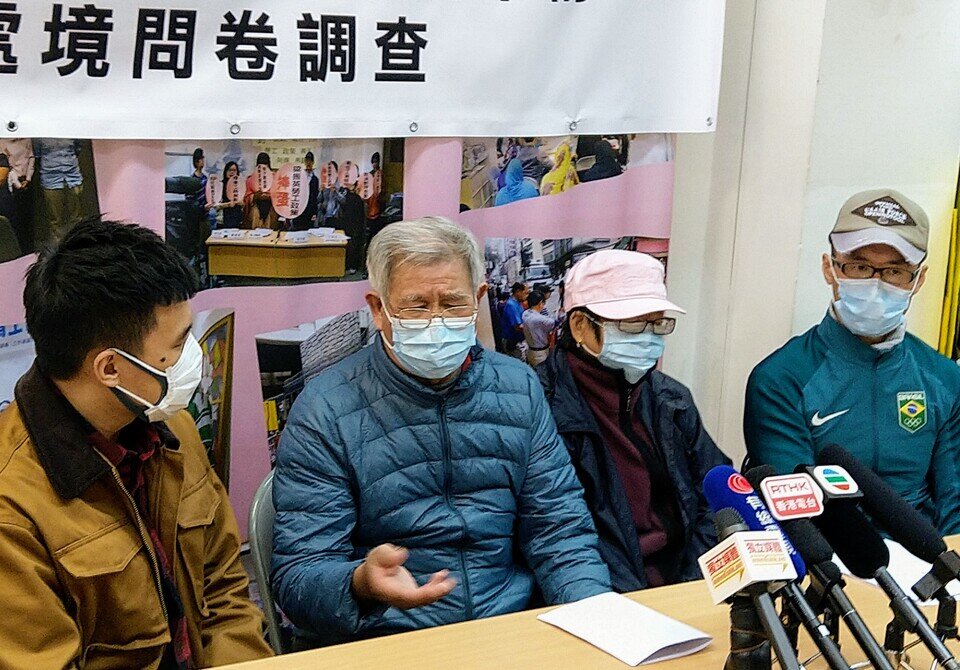 'We have to use high pressure water jets to clean very dirty alleys; eye masks and face masks are essential. We aren't asking for much, but our company hasn't kept their promise.'
Keung BAK, street cleaner
Cleaners Keung Bak (second from the left) and Chu Jeh (second from the right) shared the challenges they face with the media.
Chu Jeh (珠姐), a cleaner who works in one of LCSD's parks, has not received any masks since Chinese New Year. Many cleaners are seniors and often do not know how to buy masks online; they also work long hours, making it hard to line up to buy them. Even if they're lucky enough to find a box, they can barely afford it. 'A box of 50 at a pharmacy costs at least HK$298! Even if the cleaning company doesn't give me any, I still need to protect myself,' Chu told us. But she, like many other outsourced government cleaners, only makes minimum wage (HK$37.5/hour). After working hard for eight hours, they only make HK$300. After buying a box of masks – which the government should have provided them in the first place – they only have HK$2 to spare.
Keung Bak (強伯), a street cleaner who works in the North District, said he has only received five masks since Chinese New Year; among them, two – which he described as being paper thin – were from the Food and Environmental Hygiene Department. To save his masks, he said he can only wear one mask every two days. He also said street cleaners are not equipped with the protective equipment they need to do their jobs. He is in charge of washing the streets. The water pressure from water jets is enough to blow tiny rocks or debris up and even into their eyes; without goggles though, this could lead injuries, even blindness. He also said he does not even have an extra set of clothes to change into. 'What can we do? There's nothing we can do when our company promised to give us extra uniforms but went back on their word,' he said.
Oxfam Response to HKSAR Government's 'Anti-epidemic Fund'
The HKSAR Government announced that through the 'Anti-epidemic Fund', each eligible cleaner/security guard will be given a monthly 'hardship allowance' of HK$1,000 for four months. However, the allowance will not benefit the 5,300 'three-nil buildings', which do not have owners' corporations, any form of residents' organisations, or do not utilise the services of property management companies. OHK urges the HKSAR Government to plug this loophole and strengthen protection for all cleaners and security guards

. Learn more.