Start main content
26 OCT 2012
ONE-SEVENTH Exhibition spotlights the world's hungry population Oxfam and artists join hands to call for global food justice
Everyone should have the right to eat. But today, almost one-seventh of the world's population goes to bed with an empty stomach. With the ONE-SEVENTH Exhibition that opens today (26 October), Oxfam Hong Kong and 14 local artists join hands to highlight this disquieting fact about global hunger. Through their artistic creation, these artists hope to inspire viewers to consider how we can all help to create a fair food future.

To arouse public awareness about the global food problem, Oxfam launched the worldwide GROW campaign, which aims to encourage various sectors to contribute to global food justice through public education, campaign and advocacy work. The ONE-SEVENTH Exhibition is one of the major public events of the GROW campaign in Hong Kong.

Today, Oxfam Council Vice-Chair May Tan, Oxfam Director General Stephen Fisher and Oxfam Ambassador Karena Lam officiated the opening ceremony of the ONE-SEVENTH Exhibition, which also signifies the official launch of the GROW campaign in Hong Kong.

In her opening remarks, May Tan said, "The disquieting fact is that people are hungry not because there isn't enough food, but because of deep imbalances in opportunity and control of resources. The ways we produce and consume food further aggravate the global food problem." She added that we should recognise the power within ourselves to make a change for a better world where everyone on this planet will always have enough to eat.

The curator of the exhibition, Manfred Yuen, believes that people in Hong Kong, most of who do not grow their own food, need to be reminded that eight out of ten people living in chronic hunger are actually small-scale farmers. He wishes to display the art pieces in such a way that viewers will get to feel how it is like to have one-seventh missing, and be inspired to make small changes in their lives so that one day, food will not be missing for anyone.

Oxfam Ambassador Karena Lam has worked with Oxfam to promote fair trade. Today she once again calls for concerted efforts towards global food justice. She urges everyone to support fair trade products in order to help small-scale food producers fight poverty and hunger. She also encourages Hong Kongers to change their daily habits and lead a low-carbon life so that the impacts of climate change can be reduced, the livelihoods of farmers can be protected, and no one will have to go hungry again.

About ONE-SEVENTH Exhibition:

First Public View
Date:26 – 30 October 2012
Time:10:00am – 10:00pm
Venue:Ma On Shan Plaza – 608 Sai Sha Road, Ma On Shan, Shatin, New Territories, Hong Kong (Ma On Shan MTR Station Exit A)

Second Public View
Date:1 – 5 November 2012
Time:10:00am – 10:00pm
Venue:Fortune Metropolis – No. 6 Metropolis Drive, Kowloon, Hong Kong (Hunghom MTR Station Exit C)

Curator & Participating Artists

Curator:
Manfred Yuen 阮文韜 (GROUNDWORK 元新)
Participating Artists:
Bryan Poon 潘家和
Cam Wong 黃麗茵
Gwen Yip 葉美茵
KACAMA
Kacey Wong 黃國才
Lau Gukzik 劉掬色
Madeleine Slavick
Martin Fung 馮景行
Michael Leung
Parallelab
Stephen Chung & Jennifer Yip
South Ho 何兆南
Stella So
Twins Kitchen

-END-

About Oxfam

Oxfam is dedicated to fighting poverty and inequity worldwide. The international and independent development and humanitarian organisation tackles poverty in four main ways: sustainable development in poor communities, disaster relief, local and global advocacy, and education with Hong Kong youth. Established in Hong Kong in 1976, Oxfam Hong Kong is a founding member of Oxfam, an international confederation that has assisted poor people in 92 countries. Oxfam Hong Kong alone has supported poor people in over 70 countries/regions.

For media enquiries, please contact:
Shirley Chan
Assistant Communications Officer
Telephone: +852 3120-5281
Email: shirley.chan@oxfam.org.hk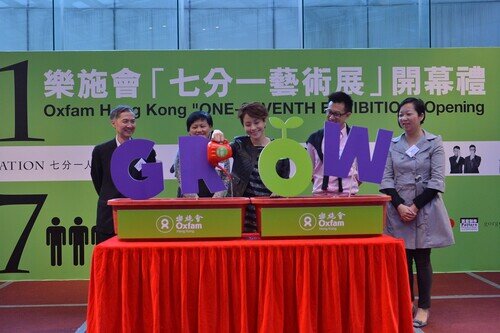 (From left to right) Director General of Oxfam Dr Stephen Fisher, Council Vice-Chair of Oxfam Ms May Tan, Oxfam Ambassador Ms Karena Lam, curator of ONE-SEVENTH Exhibition Mr Manfred Yuen and the Marketing & Promotions Manager of ARA Asset Management (Fortune) Limited Ms Zoe Fung officiated the kick off ceremony of Oxfam GROW campaign and ONE-SEVENTH Exhibition.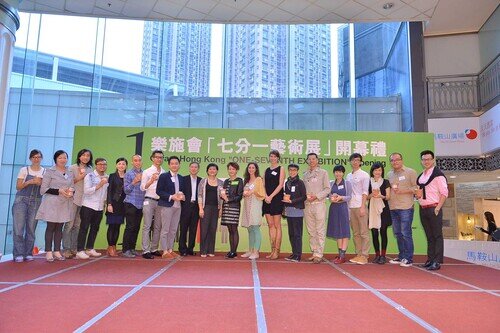 Through their artistic creation, the curator, participating artists and collaborative units of ONE-SEVENTH Exhibition inspire viewers to consider how we can all help to create a fair food future.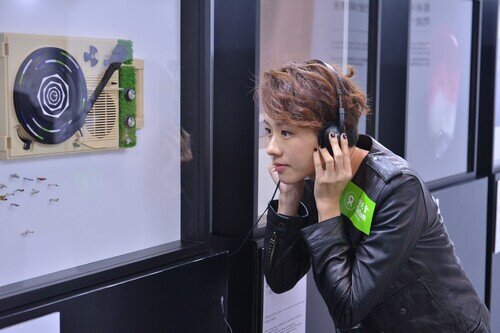 Oxfam Ambassador Ms Karena Lam was appreciating one of the art works in the ONE-SEVENTH Exhibition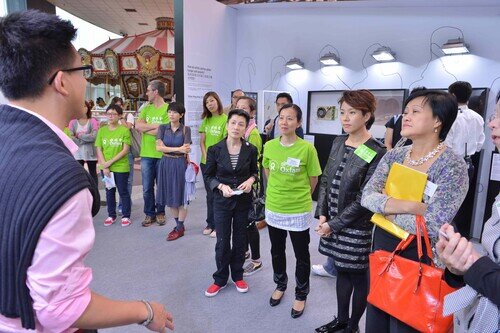 The curator of the ONE-SEVENTH Exhibition Manfred Yuen was introducing his exhibition to the officiating guests.