Start main content
A father carries his son across a broken bamboo bridge on the edge of Balhukali camp, Bangladesh. Three days of heavy rains flooded many of the areas where people had set up temporary shelters, forcing them to move to higher ground. (Aurélie Marrier d'Unienville/Oxfam)
Updated on 12 July 2019
Deeply concerning that Rohingya refugees to be sent back to face same persecution they fled
Commenting on reports that the repatriation of Rohingya refugees from Bangladesh to Myanmar will begin in mid November 2017, Oxfam's head of regional advocacy for the Rohingya crisis, Rachael Reilly said:
'It is deeply concerning that Rohingya people may be sent back to Myanmar to face the same persecution they fled.
'Refugees in Cox's Bazar are telling us they want to go home but are frightened that it is too dangerous - they want to see justice served and an end to the violence and discrimination that have caused this crisis.
'The Government of Bangladesh has made clear its commitment to refugees only going home voluntarily when conditions are safe. The international community needs to step up diplomatic pressure on Myanmar to grant equal rights to the Rohingya, while continuing to support Bangladesh to assist all those in need.'
Oxfam's position
Oxfam is pleased that the Government of Bangladesh has committed not to return refugees to Myanmar against their will. We are continuing to monitor the situation.
Oxfam urges that any return of refugees must be in line with international standards and monitored by UNHCR. The UN refugee agency is saying that conditions in Myanmar are not conducive for return and any decisions about return must be made by the refugees themselves when they feel the time and circumstances are right.
Oxfam is urging the Government of Myanmar to allow humanitarian aid to reach those in need and grant equal rights to Rohingya people – including citizenship and lifting movement restrictions that prevent people from seeing a doctor or finding work.
Oxfam is supporting Rohingya refugees in Bangladesh and providing life-saving aid to more than 266,000 who are staying in Cox's Bazaar.
The situation
Close to a million Rohingya people have fled unimaginable atrocities in Myanmar to seek refuge in Bangladesh. They are now squashed into an area far too small to safely accommodate them, living in makeshift tents in hugely overcrowded settlements, on unsuitable steep land.
Conditions are dire, with overflowing latrines and contaminated water, and bad weather will make matters worse. Rains and storms may cause major damage to the camps, further displacements, deaths and cut of access to large parts of the camps. A large-scale disease outbreak is almost inevitable.
200,000 People Threatened
During the monsoon season, around 2.5 meters of rain will fall in three months, turning camps built on dusty soil into unhealthy swamps, and making it very difficult to get aid to people.
Hundreds of thousands of refugees are living in flimsy shelters that can be washed away by floods or landslides; most are made of tarpaulin and bamboo and unable to withstand major storms.
Heavy rains make footpaths, which refugees rely on to collect water and food, and go to the toilet, totally unusable. It is estimated that half a million people could struggle to get vital aid and services during the monsoon, with women most at risk.
Urgent action is needed to ensure Rohingya refugees' safety when monsoon rains hit between June and October every year in camps in Cox's Bazar in Bangladesh. So far, adverse weather during monsoon season has caused over 130 landslides, damaged 3,300 shelters and affected 28,000 people.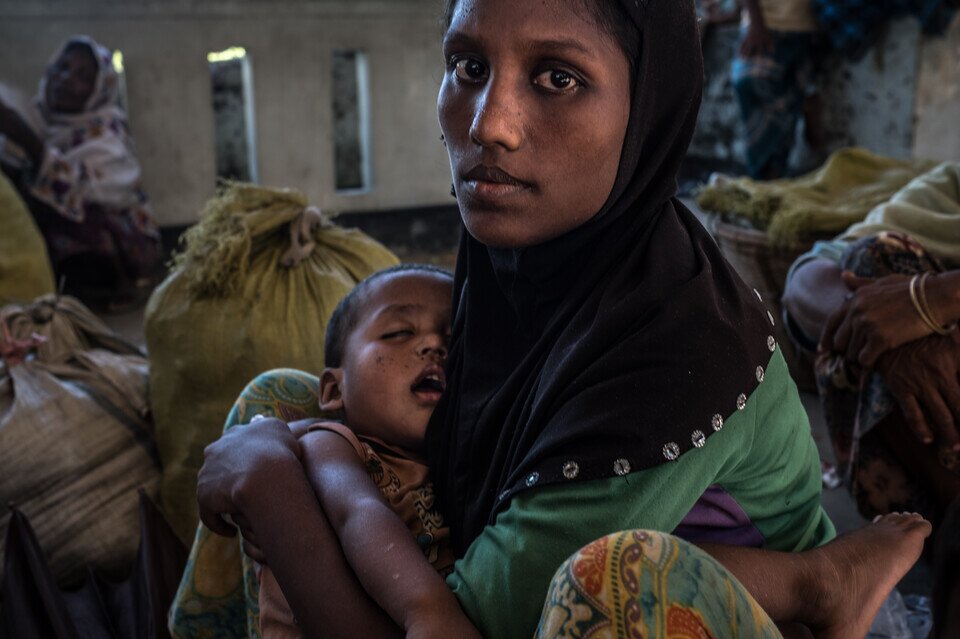 Findings of a survey of Rohingya refugees: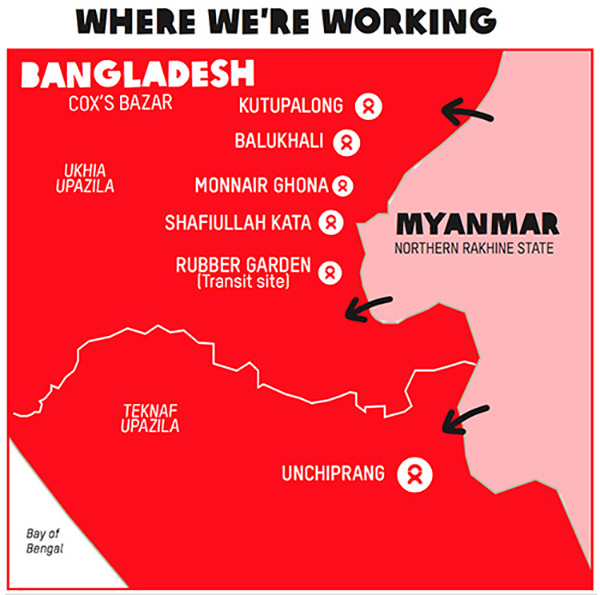 Oxfam is Responding
Rohingya people need your support to withstand wind, rain and landslide during the monsoon season.
We are currently focusing on providing water and sanitation, and adapting our plans to better deal with the crowded conditions and sheer number of people in the camps in Cox's Bazar.
We are installing a sewage facility which will initially serve 50,000 people; this will eventually rise to 100,000.
We are drilling wells and installing water points, toilets and showers. To help local communities cope with water shortages, we are providing an average of 350,000 litres of chlorinated water daily in the Teknaf area.
We have desludged and repaired hundreds of latrines. In Balukhali and Unchiprang camps, we have installed 80 women bathing cubicles. In Kutupalong camp, we are testing out eight twin-pit latrines specially designed for flood-prone areas.
We have distributed nearly 10,000 hygiene kits so far and have recruited more than 300 Rohingya volunteers to conduct hygiene sessions on safe water, latrine cleanliness, food hygiene, handwashing, and diphtheria awareness.
We are also providing 23,000 households with vouchers that can be exchanged at local markets for nutritious vegetables and ingredients to supplement their basic rations.