Start main content
The coronavirus pandemic is affecting everyone globally. With our experience in combating infectious disease like Zika and Ebola, and with our expertise in water, sanitation and hygiene, Oxfam is working around the clock with local partners in over 60 countries and regions to protect the poorest and most vulnerable from the coronavirus and its impacts. As of the end of 2020, we have reached over 11.3 million people.
The global situation
In developing countries, obtaining prevention and health information can be a challenge due to low literacy rates and the lack of access to information. Poverty also affects people's ability to protect themselves against outbreaks. In poorer countries, the lack of protective equipment, weak public health systems, and even a lack of handwashing facilities place the poor at greater risk. Pandemics like COVID-19 can also spread like wildfire in slums and refugee camps, and devastate populations already facing multiple threats to their health and livelihoods.
At least half the world's population (around 3.8 billion people) don't have access to essential healthcare
Over 45% of countries have less than 1 physician per 1,000 people
Around 3 billionpeople lack basic handwashing facilities
Over 70 millionpeople are forcibly displaced and many of them live in unhygienic conditions
70%of world's health workersare women who are at high risk of infection
Oxfam's Immediate Global Response
Since the 1960s, Oxfam has forged the way in water and sanitation provision, as well as hygiene education and promotion. To stop the spread of the coronavirus, we have sped up the delivery of our services with local partners, ministries of health and key UN agencies in different countries and regions, including Bangladesh and India, to protect the poorest and most vulnerable from the coronavirus and its impacts.
India
India is the second most populous country in the world that, like many others, sees stark wealth inequality. High living costs have left many low-income migrant workers with no choice but to live in slums. The unexpected outbreak of the coronavirus has also left labourers in many industries – including manufacturing, catering, retail and tourism – jobless. Apart from a major drop in income, they are now placed at greater risk of catching COVID-19 as many live in cramped shelters where sanitation may be a challenge.
In order to stop the spread of virus, Oxfam is working to:
Help prevent the spread of COVID-19 among the general population through enhanced knowledge and skill of the community in adopting the prescribed protection measures
Install portable handwashing stations and distribute safety kits to frontline health workers at hospitals, caregivers and community members; these kits contain protective gear/personal protective equipment to help prevent the spread of infection
Urge the government to strengthen public healthcare system immediately by allocating more funds to it
Bangladesh
Oxfam Senior Public Health Promotion Officer, a report from Cox Bazar Bangladesh
Apart from impoverished communities in urban areas, refugee camps are also at high risk. In fact, the first case of COVID-19 was confirmed in Cox's Bazaar, Bangladesh, in mid-May 2020. Close to 1 million Rohingya refugees live in makeshift camps there – one of the largest refugee camps in the world. Oxfam has been scaling up preventive measures to ensure people's safety. We:
Have installed new handwashing stations in the camps, and stepped up soap and detergent distributions
Are providing training for community leaders on COVID-19 and holding community information sessions on prevention measures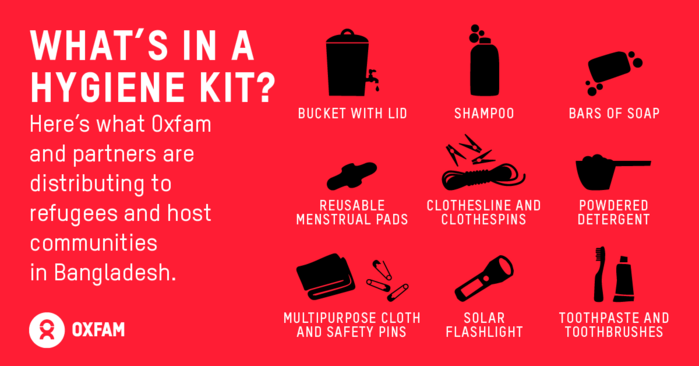 Advocacy: Demand Action from the International Community to Support Developing Countries
The pandemic has not only been putting an unbearable burden on public health systems around the world, but could also be pushing hundreds of millions of people into poverty. Oxfam is calling on governments to support developing countries with economic rescue plan and keep poor and vulnerable communities safe and afloat. (Learn more)
learn more about Oxfam's response to Covid-19