Start main content

Oxfam Hong Kong is an independent development and humanitarian organization working against poverty and related injustice.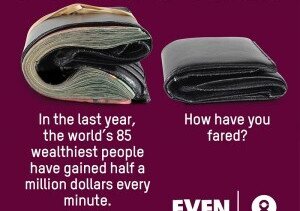 Advocacy and Campaign30 OCT 2014
This week Oxfam launches a campaign to highlight one of the biggest issues of our time – extreme economic inequality. Seven out of ten of us now live in countries that are more unequal than they were 30 years ago and the richest 85 people own the same wealth as the poorest 3.5 billion. But why is this important for an organisation like Oxfam?
Oxfam cares about inequality because it threatens to undo the progress made on development and looks to be a barrier to poverty eradication. Even in countries with growing economies, where the gap between rich and poor is great, poverty continues to blight communities. In Zambia, despite strong GDP growth in recent years, the number of people living in extreme poverty has risen and 50 per cent of children under five are still malnourished.
It's not only Oxfam who cares about growing inequality. From the Pope to Obama to the Director of the IMF, world leaders are raising the issue of inequality as a global concern – politically and economically. But it's beyond power and money.