Start main content
The picture above is entitled 'Visible vs. Invisible' by Lai Yat Nam and was displayed at 'Poverty. Full-time.' An art exhibition on working poverty.
According to the Hong Kong Poverty Situation Report for 2017, after policy intervention, 30.5 per cent of citizens aged 65 and above live in poverty – that's about 340,000 elderly people. As the largest employer in Hong Kong, the government should also take the lead in scrapping the MPF offsetting mechanism and protect the retirement of frontline outsourced workers.
The Four Poverties in Hong Kong
One in every three elderly persons live in poverty.

Learn more about our research on poverty in Hong Kong
the cost of labour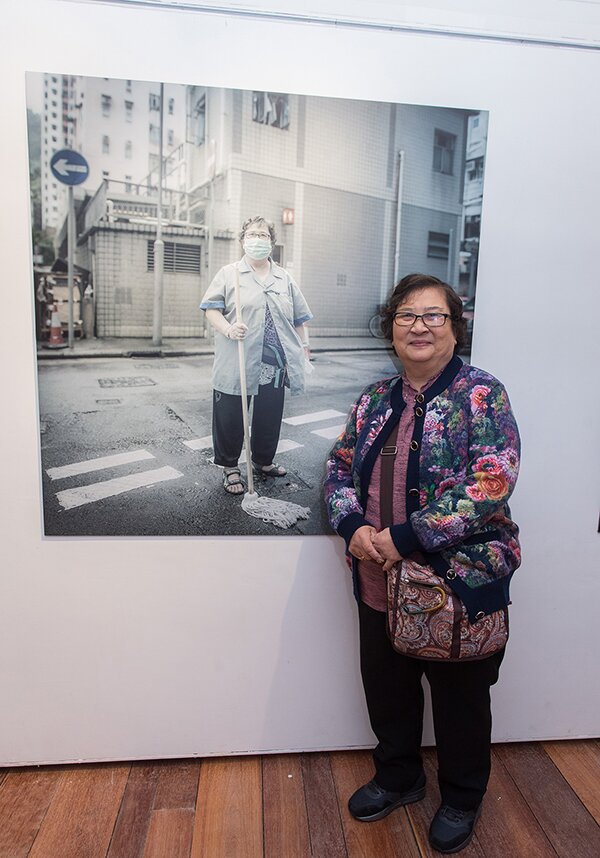 'Some call me "toilet lady", but I'd call myself the toilet "chief". I respect my occupation; I do my best to keep the toilets clean. I respect each person who comes here, but does the government respect outsourced workers like me? How can the government just let contractors offset our MPF?'
----Leung Pik Hua, Frontline public toilet cleaner, 68 years old
Pik Hua has been doing this job for over a decade, and has worked in a slew of public toilets, from the one on Tai Hang Road to the one on Canal Road. Every few years, the government needs to find another outsourcing company, so Pik Hua has worked for more cleaning companies than she can count. She remembers one incident very vividly though: once, when her contract was not renewed, she was supposed to receive HK$20,000 in severance fees, but after the company offset it with her MPF, she only received HK$6,000.
In 2017 alone, a total of HK$4.3 billion was offset with employees' MPF savings. With the continual offsetting of her retirement funds, Pik Hua does not even dare think about retirement. Instead, she continues to work 30 days a month, 10 hours a day, makes minimum wage and does not even make HK$10,000 a month.
Oxfam held 'Poverty. Full-time.' An art exhibition on working poverty in 2017 to help the public reflect on the value of labour and work through the art. Pik Hua shared her story, and Ducky Tse – curator of the exhibition and photographer – photographed her. When she saw her photo at the opening ceremony, she was very proud.