Start main content
The picture above is entitled 'Visible vs. Invisible' by Lai Yat Nam and was displayed at 'Poverty. Full-time.' An art exhibition on working poverty.
Together, we can transform more lives!
The Situation
According to the Hong Kong Poverty Situation Report for 2020, before policy intervention, 23.6 per cent of Hong Kong's population – 1.653 million people – live in poverty. The causes of poverty are interrelated, and that is why Oxfam Hong Kong (OHK) works on a variety of issues. Besides conducting research on poverty among the elderly, women, the working class and ethnic minorities, for instance, we also conduct policy research to help the public better understand Hong Kong's poverty issues. In 2016, Hong Kong's Gini coefficient stood at 0.539 before taxes and transfers, and 0.479 after – the highest in 45 years. Among developed countries and regions, Hong Kong has the greatest wealth disparity.
OHK believes inequality breeds poverty; the Hong Kong Inequality Report we published in 2018 backed up this claim as it pointed out that systemic problems like unjust policies fuel poverty in Hong Kong. As such, we at OHK have been undertaking various advocacy initiatives.
For instance, we have been urging the government to take the basic cost of living into account when calculating the poverty threshold. The government set the poverty line at 50 per cent of the median household income by household size in 2013, so in 2020 the household poverty lines for one-person and two-person households are HK$4,400 and HK$9,500 respectively. The official poverty line should be able to help measure poverty, however, because it does not take into account households' basic living expenses, it is not a very helpful indicator. As such, we interviewed and calculated the basic cost of living for different demographic groups and household sizes based on the groceries they would need to buy to cook nutritionally balanced meals. Studies like this have helped society at large gain a better understanding of poverty and the needs of the poor.
Policy advocacy
Help the poorest adapt to climate change
Climate change affects us all, but the poorest are the bearing the brunt of its effects. Although the government is committed to achieving carbon neutrality by 2050, it has not formulated specific climate adaptation goals and measures geared towards the poor. OHK urges the Hong Kong government to develop policies to support those living in subdivided flats/poor living conditions adapt to climate change, and speed up the construction of public housing to help subdivided flat residents cope with increasingly frequent extreme weather events.
Oxfam has been urging the government to establish a heat index or other objective indicators as a criterion for stopping outdoor work to reduce the risk of heatstroke among workers. The current government has proposed in its latest policy address (2022) that it will formulate guidelines based on the Hong Kong Heat Index, and require employers to take preventive measures in accordance with the prescribed guidelines to protect employees from heat stroke at work. In addition, factors such as humidity, air circulation, and high indoor temperatures should also be taken into account in the index to fully protect the occupational safety rights of employees. Moreover, government departments should set standards for when work should cease based on the index. If contractors refuse to follow the guidelines, they should be penalised and have points deducted from their overall score, which would affect their chance of winning future tenders.
Life of a street cleaner in the intense heat
Reviewing the minimum wage
On 19 September 2023, OHK released its 'Hong Kong Poverty Report 2023: A Polarised Recovery in the Post-Pandemic Era'. It found that the overall poverty rate reached 20 per cent in the first quarter of 2023, with over 1.36 million people living in poverty.
Comparing the median monthly incomes of the richest and poorest decile of households pre- and post-pandemic, it found that the poorest decile made 57.7 times less than the richest decile in the first quarter of 2023 – up from 34.3 times in 2019. This highlights that even as the pandemic recedes and society returns to normal, the path to economic recovery for low-income and high-income families is sharply divided. High-income families have benefited more from the economic recovery, while low-income families not only failed to benefit from it but also faced new challenges.
After many years of advocacy on Oxfam and other civil society groups' part, the current administration proposed in the 2022 policy address that it would conduct a study on how it could optimise the statutory minimum wage level review mechanism, including the review cycle. Oxfam believes that reviewing the cycle is a good opportunity to implement a yearly review. Adjustments must stay on par with the CPI(A), enable wage earners to support one other person, and be higher than the average CSSA level to ensure that the wages of workers keep up with inflation. Based on the above principles, Oxfam believes that the minimum wage should be raised to no less than HK$45.4. The Council also calls on the government and other capable employers to go one step further and pay employees a living wage (the latest living wage level in 2023 is no less than HK$60.1 per hour).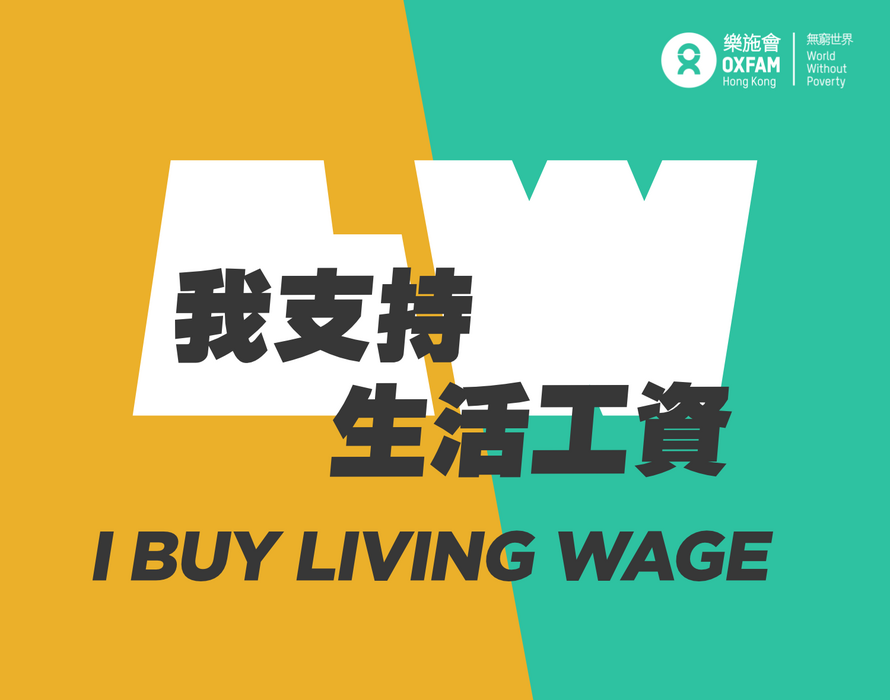 the official website for the Living Wage Charter
Oxfam recognises employers who pay a living wage and will award the 'Living Wage Employer Logo' to acknowledge their responsible wage policy. This logo can be used on eligible applicants' social media, websites, or other promotional materials. Employers can apply for the 'Living Wage Employer Logo' on this page.

Implement annual salary increase mechanism to benefit outsourced workers
In the 2022 Policy Address, the current administration also proposed to review the arrangements for non-skilled staff outsourced by the government. These include staff remuneration packages and monitoring mechanisms. At present, in the tender documents of the Housing Department, it is stated that wages must be adjusted according to the annual fluctuation adjustment mechanism. Under the mechanism, salary increases for the coming year are calculated mainly on the basis of the Consumer Price Index and data on the salaries of cleaners and security guards. Over the years, Oxfam has been urging the government to implement an annual salary increase mechanism for all government outsourcing contracts to ensure that workers have the opportunity to adjust their wages every year. At the same time, the government, as the largest employer, should take the lead in paying outsourced workers a living wage and fulfil their social responsibility.
Hong Kong's Housing Woes
According to the 'Report of the Task Force for the Study on Tenancy Control of Subdivided Units' in 2021, there were 100,943 subdivided flats that housed more than 226,000 residents. To solve the housing problem, the government should develop different kinds of community housing in the short term to provide temporary residence for low-income families on the public rental housing waiting list. In long term, the government should work on the planning and development of brownfield sites. They should accelerate the planning progress to confirm the land sizes of different public housing projects and increase the public housing ratio.
According to the OHK research report 'Impacts of extreme weather on subdivided flat residents' in 2021, nearly 80 per cent of respondents had lived in their subdivided flat for over five years, while 35 per cent had lived in their flat for eight years or more. On average, respondents paid over HK$4,700 a month for rent. The average rent per square foot was close to HK$40, which is around HK$4.5 more than the average rent per square foot for private housing in Hong Kong.
Our projects
Through our research, we have pinpointed problems causing/fueling poverty, and have launched projects that cater to different groups of people. For instance, we have been working to promote bazaars as an alternative livelihood option to alleviate poverty among women from poor backgrounds. To help ethnic minorities gain equal access to opportunities, we have also developed a project for non-Chinese speaking students to learn Chinese. During COVID-19, we launched online Chinese learning games and stories, so the children could learn at home, and set up a WhatsApp group so students' parents would receive this and other information. During the pandemic, we also launched a meal kit project and a nutrition support project so that families with children living in subdivided flats would have access to nutritious meals.
With the experience we gain from our pilot projects, we test effective poverty alleviation methods and implement initiatives. We also educate the public about poverty, and urge the government to create a human economy and address poverty through holistic policies. We fight poverty through our experiences of launching effective programs and educating the public.
'Give A Meal 2.0 – Mobile Nutrition Clinic' Project
Since 2021, Oxfam has been working with the People Service Centre and the Hong Kong Community Dietitian Association to implement the Mobile Nutrition Clinic Project. The project combines research, service and education to teach parents and children from low-income households correct information about nutrition. Through it, children also learn to understand that it is not easy for Mum/Dad to make a delicious meal given the many tasks they have to tend to.
After a year, parents have learnt how to prepare healthy meals for their children and have regained confidence in taking care of their children's meals. Over 70 per cent of the children saw significant improvements in their nutritional intake, and more than half of the children saw improvements in their digestive health and picky eating habits.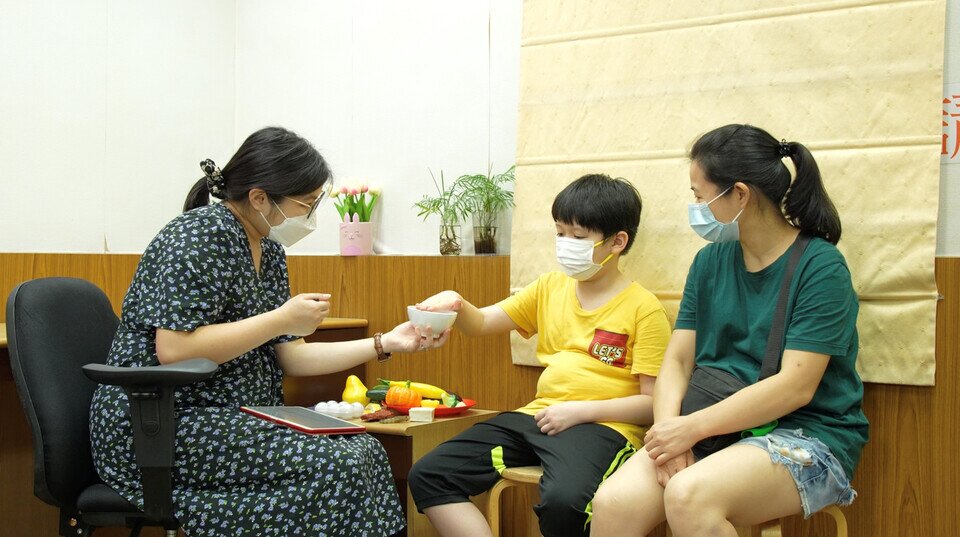 .one-on-one consultations with nutritionists
.Healthy Eating Support Group for Parents
.Children's Healthy Eating and Self-Care Group
Improving Subdivided Flats Through Storage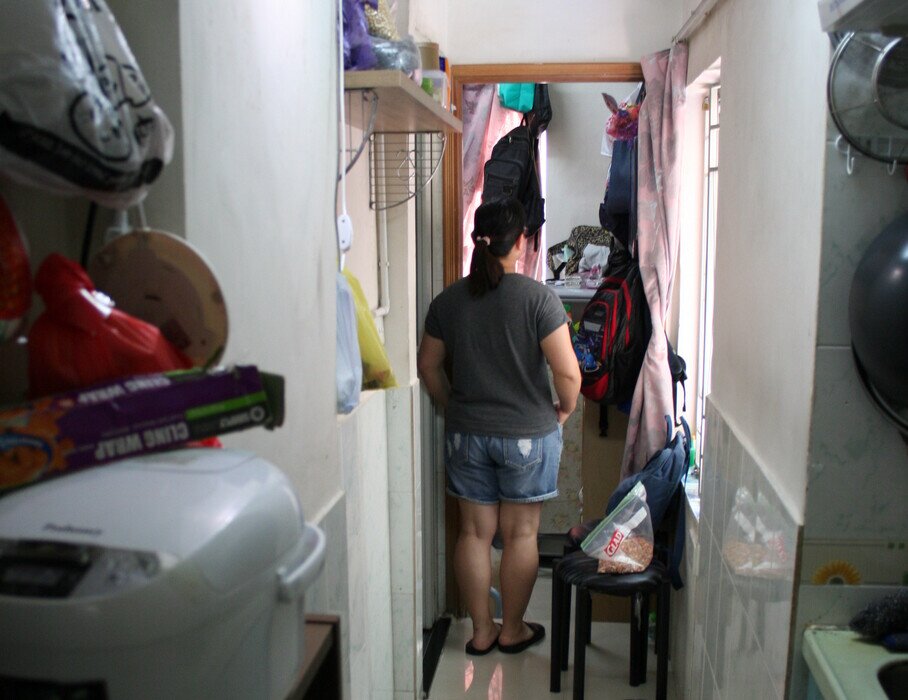 Yin, her husband and their 11-year-old son live in a subdivided flat barely 100 square feet.
Over 200,000 people live in subdivided units in Hong Kong. Imagine a family of three living in a tiny flat, where children are forced to do most things on the family bed without a proper table. This can significantly and negatively impact children physically and mentally.

With the help of Store Friendly though, we've been supporting our partner Asbury Methodist Social Service to improve the living conditions of families that live in subdivided flats.

Through this project, families move non-essential belongings to storage units so children have space for a desk for schoolwork and more space to move about. The project also involves minor renovations, such as adding storage space, and replacing broken furniture and buying furniture to suit their needs.

The families we're working with are happy with the improvements. They feel safer and no longer have to worry about hazards like their belongings falling down from makeshift storage areas. They also have more space for their children to learn and move around, helping them make the most out of a challenging situation.

Turn caring into action
Oxfam Grant for Good – Grant-making & Capacity Building Programme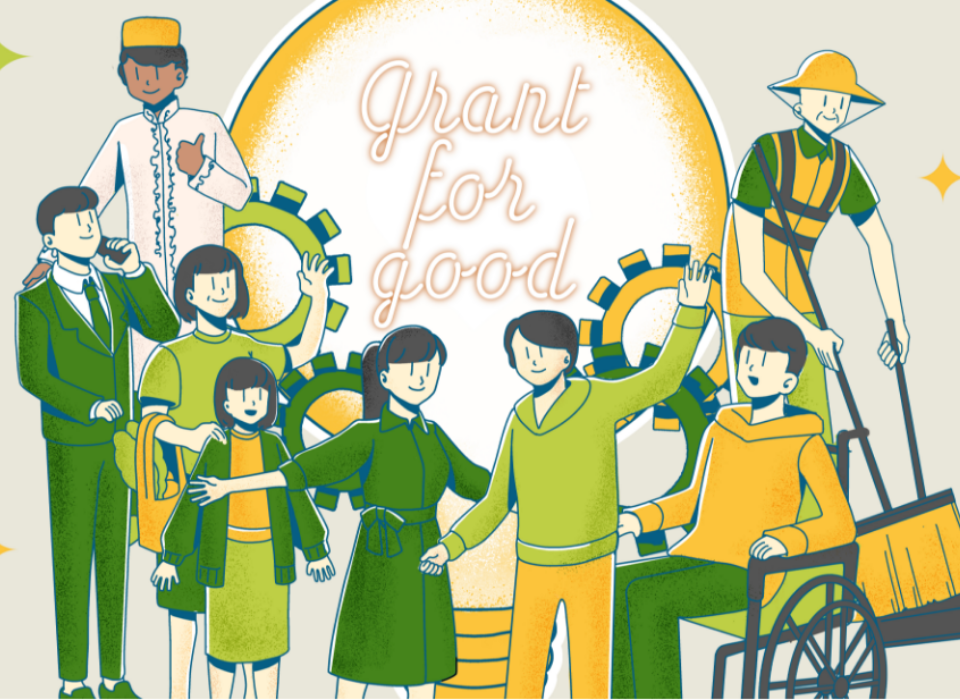 Oxfam Hong Kong was appointed by the SIE Fund, to create 'Oxfam Grant for Good', which is designed to encourage everyone from all walks of life to come up with innovative solutions to address poverty and social exclusion.
We call on both individuals and teams with innovative ideas or projects at any stage, whether it be at a prototype, start-up, or scale-up, to join 'Oxfam Grant for Good'. Together with Oxfam Hong Kong, we can make a collective impact on society.
Rethink Poverty

: Public Education Activities
There's more to poverty than meets the eye. That's why we're inviting the public to rethink it on 17 October – the International Day for the Eradication of Poverty – and beyond, and to fight it with us.
The theme of Rethink Poverty campaign — 'Together Empower!' — represents how togetherness and partnership can bring about empowerment, which in turn enables those from low-income backgrounds to unleash their talent and potential. Poverty is a complex and multifaceted issue, and there is no single way to address it. By working together with people living in poverty to build resilience in adversity though, we can create a long-lasting and positive impact in the fight against poverty.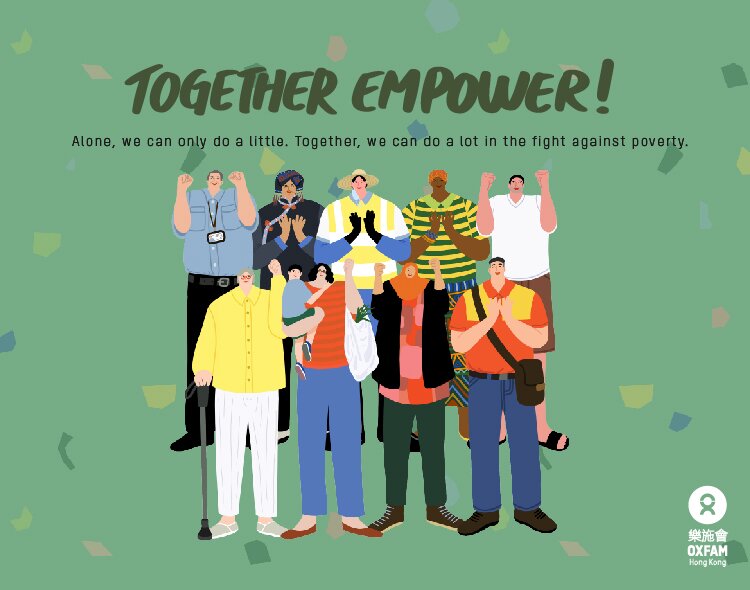 Alone, we can only do a little.
Together, we can do a lot in the fight against poverty.

Fair the Sheep: Advocacy and Public Education Activities
In 2018, Oxfam launched 'Fair the Sheep: Advocacy and Public Education Activities' to raise awareness about and fight inequality in Hong Kong.
Cecilia Yeung, Hong Kong female high jump record holder, joined our 'Fair the Sheep advocacy and public education activities' in 2018. Here, she walks up six stories to visit Kit, a boy who lives with his family in a subdivided flat.
'Fairness isn't about everyone getting the same outcome, but having equal opportunities.'
-

Cecilia Yeung
Together, we can transform more lives!



Oxfam's Policy research and advocacy (selected)
*Chi Only