Start main content
A lot of women can't earn a living because of the constraints they face as primary carers. (Photo: Ko Chung Ming/Next Plus)
Together, we can transform more lives!
The Situation
In 2020, 880,000 (24.2%) women lived below the poverty line before policy intervention. Compared to the 760,000 (22.9%) men who lived in poverty – 120,000 less than women.
Many women from low-income households find it difficult to find work because they are often responsible for taking care of their family members; it is also hard for them to work in other districts because of this. Given these constraints, women can often only work casual jobs. Besides the fact that these are low-paying jobs, it is also common for employers to ask them to sign 'non-continuous', or '4.18', contracts (i.e. they work continuously for four weeks, 18 hours a week). Under these contracts, they are not protected by labour laws, which keeps them at a disadvantage.
After speaking with low-income families and conducting research on policies in this area, we found that only a change in policies can help alleviate poverty for these women. As such, we have been urging the government to create family-friendly jobs.
To improve the overall situation, Oxfam is urging the government to make several changes. This includes reviewing the minimum wage to ensure it meets the needs of employees and their families, and including employees who work under 4.18 contracts in labour laws to protect their rights. The government should also develop policies on bazaars to provide women who need to take care of their families but also earn a living with livelihood opportunities.

Women and poverty in Hong Kong
hOW WE'RE HELPING
Sharing Kitchen
To provide women from low-income households who live in remote areas with flexible working opportunities, Sharing Kitchen makes use of restaurant kitchens during non-peak hours to enable these women to produce food/beverages for an extra income.
Oxfam and the SIE Fund are supporting this project. So far, Sharing Kitchen has worked with six restaurants and has 16 participants who are developing over 100 kinds of products. Sharing Kitchen is also working with us on 'Give A Meal: Oxfam's Food Support Project for Low-Income Families'; their participants are preparing the meal kits, which is proving helpful for them as the coronavirus is hitting them hard financially.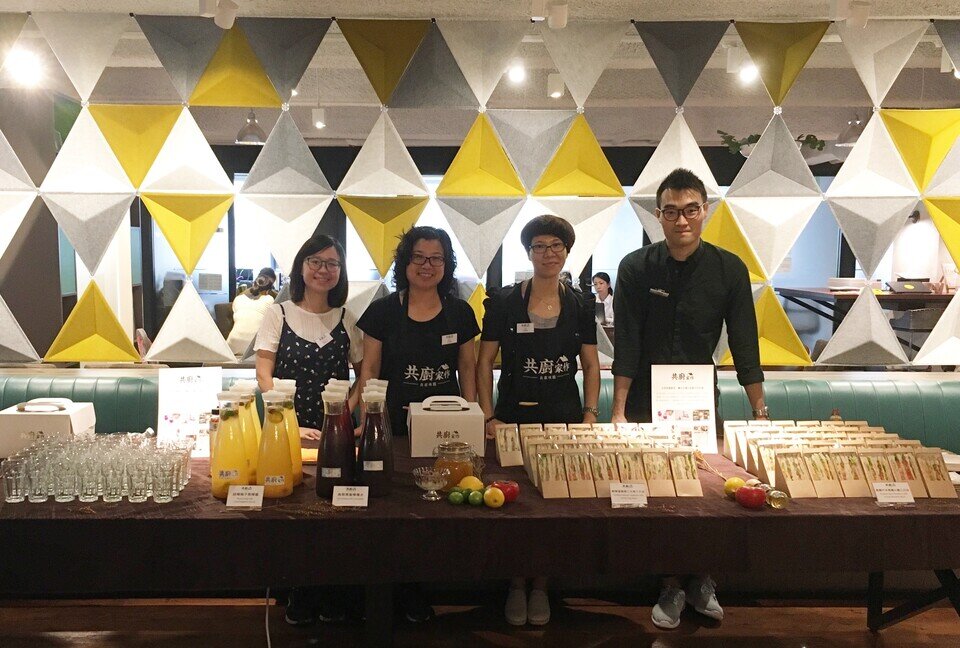 Sharing Kitchen: Culinary talent unleashed
Ah King (second from the right) is now able to put her culinary talents to good use at Sharing Kitchen and earn an extra income.

Ah King scurries busily through the kitchen of a restaurant that specialises in grilled fish as she prepares to make herbal teas, which she will sell. She is making use of the restaurant's kitchen three hours before it opens. From 8 to 11 am, she goes from washing and cutting the ingredients to boiling them, straining the tea and bottling it. Today, she's made apple and pear 'tea', and hibiscus tea.
She is not one of the staff here at this restaurant, but a member of the Sharing Kitchen project. She makes use of the restaurant's downtime by making herbal teas and selling them in the restaurant. What she makes from the teas is split with the restaurant; this has helped her earn additional income for her family.
Ah King, who is in her early 40s and has one daughter, lives in Tsuen Wan and needs to take care of her family, so it is hard for her to find work. Like Ah King, the culinary talents of many other women from low-income families have long been appreciated by their neighbours, but because of various restrictions (e.g. having to rent a place and get a licence), it is often hard for them to make a living using these talents. Sharing Kitchen, however, gives them the space and tools they need to reach their potential and earn a little extra to support their families. Besides making herbal teas, the chefs also make 'New Year Cakes', rice dumplings, mooncakes, macarons and cookies. These women's talents are apparent with just one taste of their cooking.
Community Bazaars
In remote areas like Tung Chung and Tin Shui Wai, the poverty rate among women is high. This is attributed to the few job opportunities that cater to women who need to take care of their families, and the high cost of living. From 2013 to 2018, we have held nearly 50 bazaars, and close to 1,500 people – mostly women from low-income families – have joined.
To provide them with alternative livelihood options and the community with more affordable goods, Oxfam has been supporting its partner Tung Chung Community Development Alliance's work on bazaars since 2013. From site selection, to planning, to management, each bazaar is put together through the collaborative efforts of the Alliance and those who live in the neighbourhood who are from low-income families. This has not only empowered these individuals but also the over-20 community organisations that are working to develop bazaars in their own areas, enabling each to do what they are good at.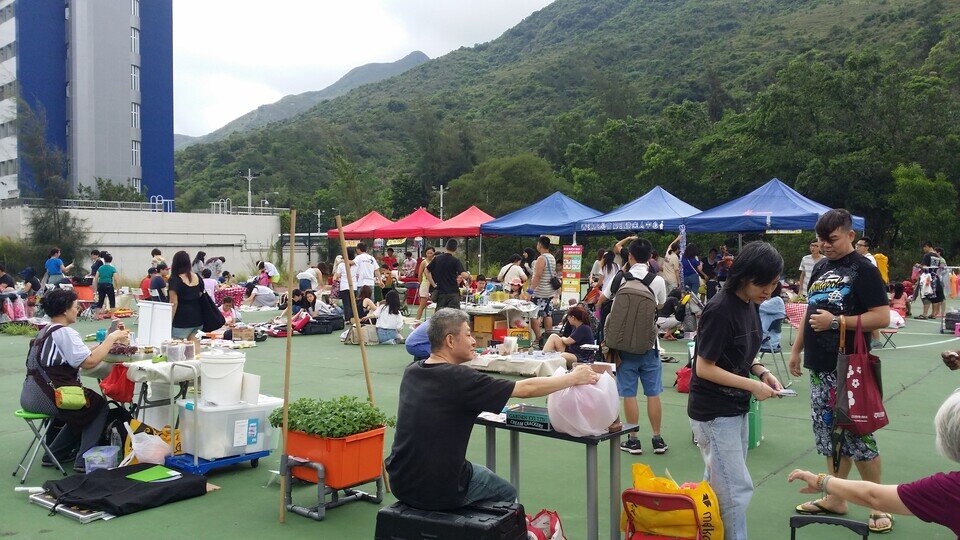 Bazaars: A way out for poor mums
The Tung Chung Bazaar. Bazaars are an opportunity for residents to earn an extra income and strengthen their bond. (Photo provided by Tung Chung Bazaar)
Ah Ching and her husband have two children. Her husband works casual jobs in construction and does not earn a stable income. Before taking part in bazaars, Ah Ching had tried to work in other districts. She found a job at a Chinese restaurant and made HK$6,000 a month, but would pay her relative HK$3,000 to take care of her children. That on top the cost of transportation left Ah Ching without enough to take care of her family's basic living expenses.
After being introduced to bazaars through a friend, Ah Ching began selling children's clothing and now makes HK$2,000 a month on average. Though it is not a lot, she has more time to take care of her children herself, has made friends with other people like her in the neighbourhood and has improved her family's finances. The money she earns has even helped her family pay for unexpected expenses, and has even allowed her second-grader to join extracurricular activities: 'I'd rather cut back on my own expenses to give my kids the opportunity to learn more about the world.'
Bazaars offer women from low-income households with economic opportunities. It not only enables them to take care of their families, but also relieves economic pressure and helps pull them out of poverty. Currently, however, the government does not have a policy on bazaars and it is difficult to apply for a space to set up one; these factors have barred many from enjoying the benefits bazaars offer. That is why Oxfam has long been urging the government to establish a clear policy on bazaars.
Policy research
*Chinese only
Together, we can transform more lives!