Start main content
Programme Story
Fighting food waste and empowering woman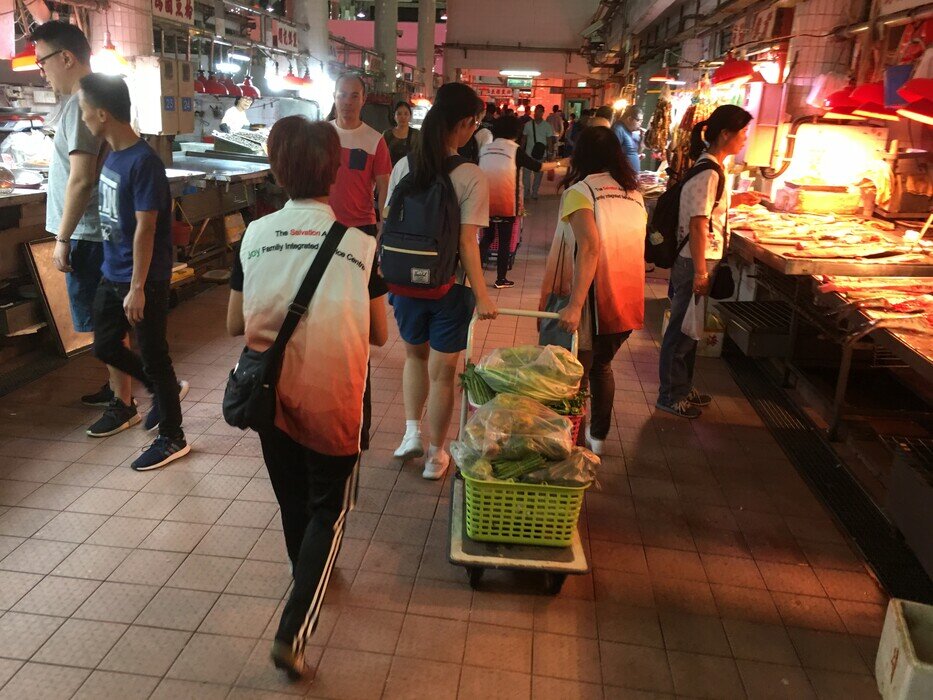 'I can save money for my grandchildren's education now that I have additional income.'
- Grandma Yung
Yung, who takes part in food rescues, not only helps fight food waste and puts food in the hands of those who need it, but has also saved on food expenses and helped her increase her income.
In Macau, over 300 tonnes of food is wasted every day, much of which is edible. Seeing this, Oxfam in Macau has been working The Salvation Army Joy Family Integrated Service Centre on a food rescue and redistribution programme since 2017. Food is rescued from wet markets every Wednesday by grassroots women in the community and redistributed to families in need. These women, who make up the 'Green Team', are unable to work full-time for various reasons, and are thus a more impoverished group.
Yung (pseudonym), a grandmother of three, is part of the Green Team. Her son is unable to work because he has a disability, and her daughter-in-law left the family, so responsibility of taking care of things at home has fallen on Yung. The family of six relies on government assistance to make ends meet and life is difficult for them.
Yung said, 'I remember the first time I met the social worker here, I wanted to ask her for a secondhand blanket. At the time, she also asked if I would be interested in volunteering at a food rescue at wet markets three times a week. I said yes because I hoped to do my bit to help out.'
After helping out with food rescues, 'volunteers' receive a stipend corresponding to their contribution, which not only gives them additional income but also personal satisfaction. This also empowers them and helps them know that aside from the support they receive socially or from their families, they too can be a light to others.
'We spend quite a lot on necessities as a family; two of my grandkids have special learning needs too. We try to save as much as possible, but it's hard to save on food,' Yung said. 'Since joining this programme though, I have saved a lot on food because I can bring rescued food home. And even though the stipend I get isn't much, it is extra income for us, so we can save money for my grandkids' education. Even though the food I bring back is "rescued", it's still edible – I just need to cut off the certain bits.'
Through this programme, Yung has also had the opportunity to interact with people of different backgrounds. For instance, in 2018, Pui Ching Middle School's Oxfam Club began working with the Green Team on food rescues. Yung said, 'The students are really sweet and would worry about whether we'd be tired out by this work. It's really touching that they care so much about how we feel.'
As of February 2019, over 20,000 tonnes of food have been rescued and redistributed to 10,406 people (gross count). This programme has not only given families in need vegetables and fruits, but has also brought people in the community closer together. We hope that this pilot project will serve as good reference for the government so that it can consider combine both environmental and poverty alleviation efforts in its policies.

press release (Chi only)



Position Paper (chi only)