Start main content
Liu Ka-yee's 'Cleaner's Theme Park' which was displayed at 'Poverty. Full-time.' An art exhibition on working poverty. (Photo: Ducky Tse)
Together, we can transform more lives!
The Situation
Working poverty has become a serious issue. According to the Hong Kong Poverty Situation Report 2020, before policy intervention, over 805,000 people made up the working poor in Hong Kong. Since the minimum wage was introduced in 2011, it has always lagged behind inflation and has thus continued to keep many who work poor.
After many years of advocacy on Oxfam and other civil society groups' part, the current administration proposed in its latest policy address (2022) that it would conduct a study on how it could optimise the statutory minimum wage level review mechanism, including the review cycle. Oxfam believes that reviewing the cycle is a good opportunity to implement a yearly review, and establish a mechanism that reviews the minimum wage based on the three principles above. Oxfam also calls on the government and other employers (that are able) to go one step further and pay wage earners a living wage (the latest living wage level in 2022 is no less than HK$58.9 per hour).
Employment Situation Amidst the Epidemic
On 5 October 2022, OHK released Hong Kong Poverty Report: Poverty and Employment During the Pandemic.It found that prior to the pandemic (2019), the richest decile of households made 34.3 times more than the poorest decile, but that number surged to 47.3 by the first quarter of 2022.
OHK believes that the minimum wage plays an important role in the working poor's livelihoods as they build back from the pandemic. We urges the Chief Executive and Executive Council to raise the minimum wage to at least HK$45.4 to ensure that workers can support one other person and earn more than what they would receive through social assistance. Minimum wage should also be reviewed every year so that it increases with inflation and ensures workers can achieve a basic standard of living. We also call on the government and other employers who are able to go one step further and pay a living wage to employees who earn lower wages.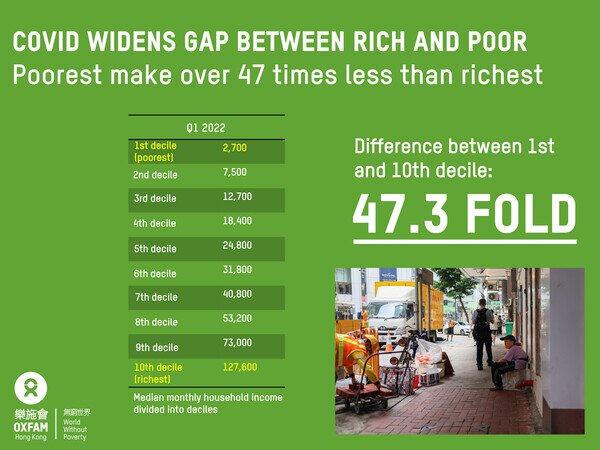 OHK's other report, Hong Kong Poverty Report: Unemployment among the poor during COVID-19' released on 8 December 2020, it revealed that the number of unemployed people from poor households (i.e. those whose monthly income is lower than half of the median household income in Hong Kong) rose to around 110,000 In Q2, three-quarters of which could be outside the safety net of the Comprehensive Social Security Assistance scheme. As such, we urged the government to:
lower the minimum working hours required for the Working Family Allowance to 36 hours, so casual workers can also benefit from it, and double the allowance
make use of idle land and support the development of bazaars
study the feasibility of establishing unemployment insurance


hOW WE'RE HELPING

Making Poverty Wages
'Usually, people cover their noses when they're around cleaners, but after the exhibition, some of the residents would cheer me on when they see me; they make me feel respected.'
-Madam Hing
Madam Hing is proud to see her own photo displayed at the exhibition, calling for care on the situations of grassroot workers. (Photo: Derek Yung)

'The garbage stinks to high heaven, especially when I come in on summer mornings,' said Madam Hing, who has been working as a cleaner for 11 years.
It's not just the pungent odour she needs to deal with though. 'When bags of rubbish fall through the refuse chute into the garbage bins, shards of glass and other rubbish fly in all directions, easily hurting anyone around,' she said explaining the dangers of her work.
Hing works nine hours a day and makes minimum wage. She said, 'Every day I throw out hundreds of kilograms of garbage and it's quite physically taxing. Sometimes, I really wish I could take a day off to rest.' Although labour laws require employees to take a day off for every six days of work, employers often pressure employees to continue working, using what little they make in a day as motivation and the lack of manpower as an excuse. This, however, means many low-income workers need to work continuously for extended periods of time.
Aside from long working hours, these workers also lack labour protection. 'Every few years, employers make us sign new contracts so that we aren't able to receive Long Service Payment,' said Hing annoyedly. She went on, 'Minimum wage is too low; it should be raised.'
To help the public better understand the challenges those in working poverty face, we partnered with photographer Ducky Tse to hold 'Poverty. Full-time: An art exhibition on working poverty' in January 2017. Not only did the exhibition draw many visitors, it also garnered much media attention and helped the wider public better understand and even change their attitudes towards low-income workers.
Oxfam has long been concerned about the difficulties low-income workers face. That's why we'll continue fighting to bring change to labour laws. We're doing everything from calling on the government to review minimum wage and ensuring it keeps up with inflation, to urging it to improve labour protection for those employed under non-continuous contracts.
'Street cleaners are the true pride of Hong Kong!'
- Ng On-yee

Women's world snooker champion Ng On-yee got a taste of what being a cleaner was like, as she took part in curator Ducky Tse's photo shoot for the exhibition.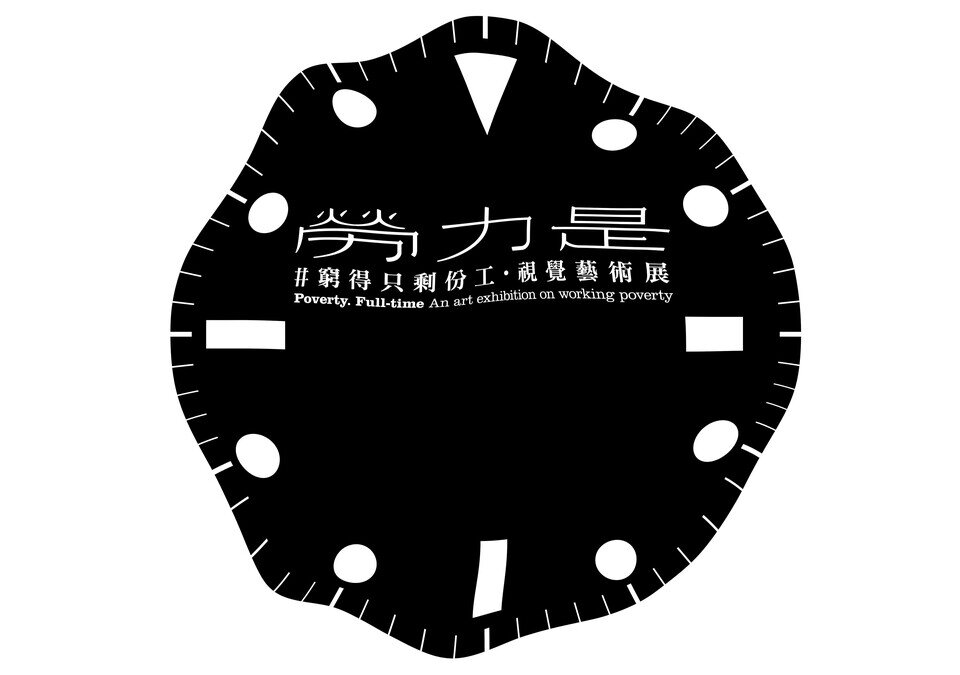 Poverty. Full-time.
In January 2017, Oxfam partnered with photographer Ducky Tse to organise 'Poverty. Full-time. An art exhibition on working poverty'. Eleven visual art teams participated in it to encourage the public to reflect on the value of labour. Learn more about the exhibition below.
Together, we can transform more lives!
Oxfam's Policy research and advocacy (selected)